We got up pretty early to set off for the drive down to London, where we arrived just after midday. On the way into the city we saw the remains of Grenfell Tower, which was surrounded by scaffolding and white material.
We dropped our bags off at the hotel, which was a big Travelodge on Drury Lane (yes the one with the muffin man!), then walked around the Covent Garden area. After some much needed coffee, we walked towards Westminster through Trafalgar Square, where we saw a big environmental protest taking place.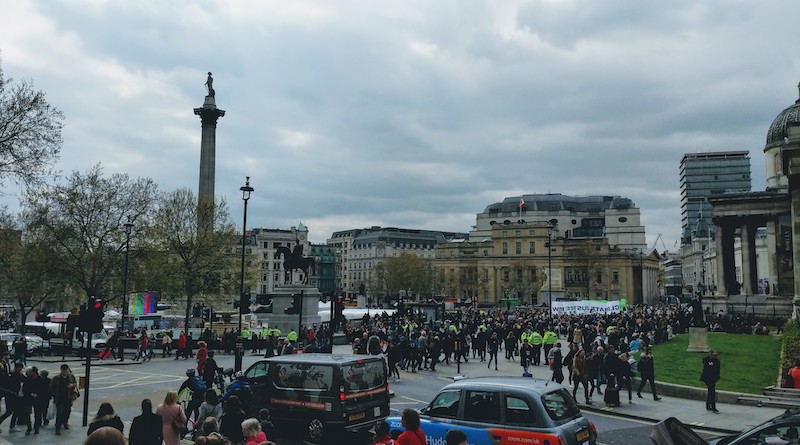 From Trafalgar, we walked to Downing St, where number 10 was just visible through the gates. In the middle of the road opposite, stood near The Cenotaph, there was a big group of protestors, and just down the street we could hear sirens and motorcycles approaching. This is where we saw the start of a huge motorcycle procession, in protest of the soldier F murder trial.
We stopped by the road and watched as hundreds of motorbikes went past, the noise was like nothing else! The whole area also began to smell strongly of fuel. Later I overheard a policeman saying that around 10,000 motorbikes had shown up.
After about half an hour of watching motorbikes go by, we walked on past Big Ben, which sadly was covered by scaffolding for repairs. The houses of parliament entrance was crowded by Brexit remain and leave protestors. Motorbikes were still going by at this point, they could probably hear them inside parliament, which I imagine was the point of it all.
We then headed over towards Westminster Abbey, but decided against paying to get in, and instead bought a waffle. 😅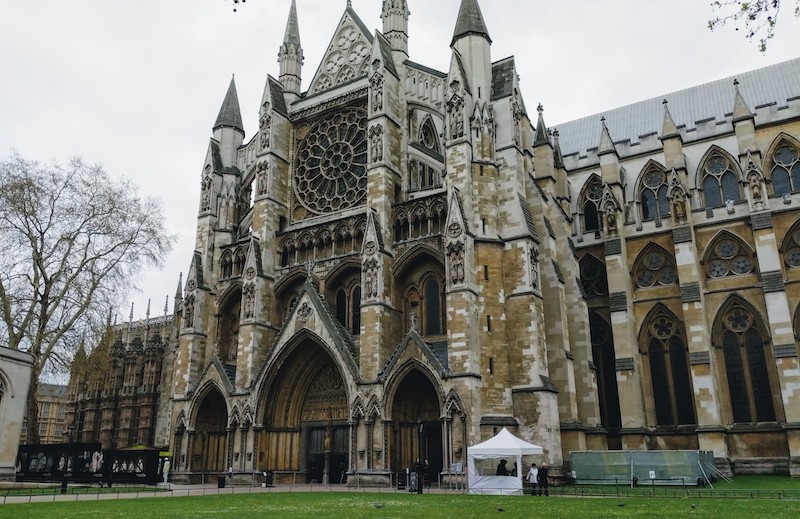 Next, we walked down by St James park and saw loads of squirrels who where unusually confident and unfazed by all the people nearby. We arrived at Buckingham palace where some very extravagant flower displays were on show out front, the combined smell was a bit like liquorice. We watched the palace guards marching about then walked back through St James park where we saw a load of ducks, doing their thing.
We walked back to the hotel, through the busy Leicester Square and Piccadilly circus, then decided to head out for food at a place called Honest Burgers, there's apparently loads of these around London, but they've also started branching out in the UK, and I was pretty happy to see they're opening one in our city too. The food was really quick to arrive and tasted great, although it's not quite Almost Famous!
Following food we went to the Shakespeare's Head nearby, where we found some kind of deaf community meet-up taking place. Lots of people inside were talking to each other using sign language, which was really interesting to see.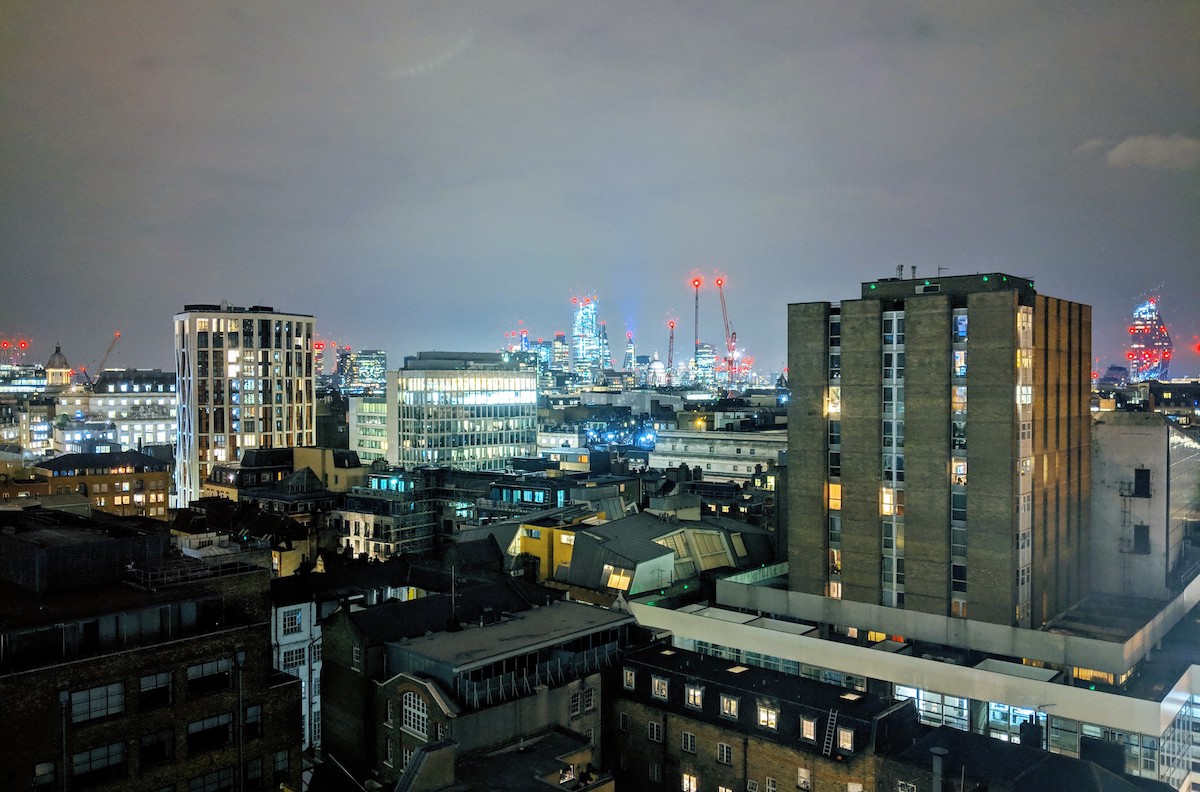 The next morning we got coffee at a cool little cafe on Drury Lane called Drury 188-189. Inside there was a stressed looking young guy, writing what looked like sheet music. I also overheard two Americans taking about relationships and how British bacon is sort of like "Canadian bacon" in America.
There were big stacks of books around and polaroid photos on the walls, the kind of place that has a friendly community feel and staff spoke to some of the customers as though they were familiar with them. Oh and the coffee & croissants were pretty good!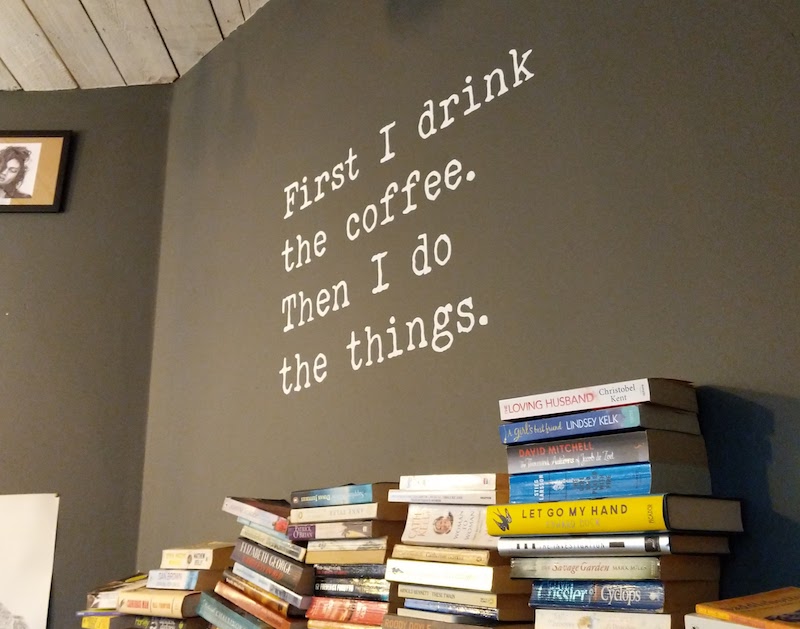 Reluctantly we left the comfy coffee place and walked on through Bloomsbury Park and past variety of weird old looking hotels. We headed for The British Library, but took a quick detour to King's Cross Station to see Platform 9¾ and the Harry Potter shop.
There was a huge queue for a photo opportunity at the platform wall, which had been made to look like the films, but it didn't seem worth the wait. There was even a small queue to enter the shop, which did have some good HP memorabilia, it was fun just walking around even though it was crazy busy.
So we then walked back over to The British Library and found the "Treasure" room. Inside there was an impressive amount of old texts in the form of music, letters, books etc. This is some of the stuff we saw, to name a few:
Notes written by Leonardo da Vinci, hundreds of years old.
A letter by Ada Lovelace detailing the first ever computer program.
Notes and original copies of work by Dickens, Shakespeare and the Bronte sisters. (turns out the Bronte sisters actually wrote really tiny!)
These things called friendship albums from Germany, showing social activity similar to facebook, but hundreds of years ago.
Very old copies of the Qur'an, Hebrew bible, ancient Hindu texts and Christian bibles.
Sheet music for George Frideric Handel's famous composition "Messiah".
A letter from Queen Victoria, revealing her dislike for the female rights moment.
Two of the four remaining copies of the Magna Carta.
A letter by Oliver Cromwell, which showed he actually had really scruffy handwriting!
There was so much to see in such a small room, certainly glad we visited. Afterwards we walked around inside the library, which was filled with students working at desks and computers. In the middle of the building was the King's Library, an impressive glass tower filled with over 65,000 books gathered by King George III.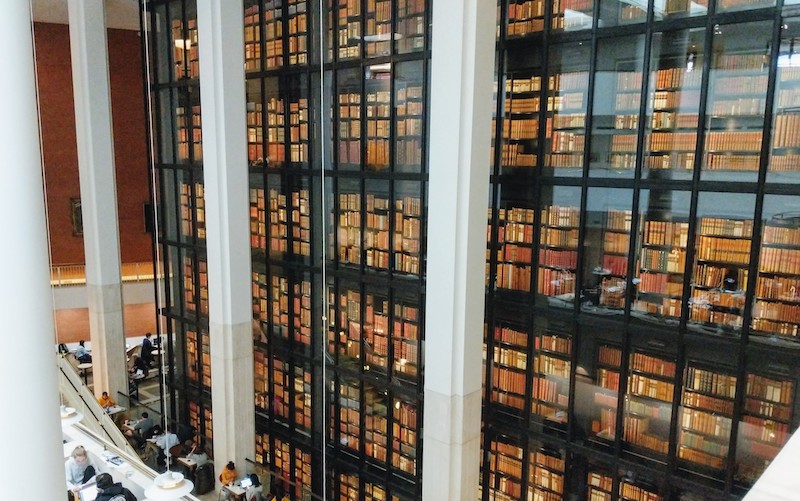 On the walk back, by chance, we saw the home of Mary Shelley, author of Frankenstein and nearby the home of Charles Dickens. This was a good reminder of the sheer amount of stuff we still remember today that originated in London.
It felt pretty good to just be a tourist in our capital for a day, thanks for reading along, until next time! 🇬🇧