28 Nld - Amsterdam
We left Arnhem to go further north and arrived in Amsterdam. We found a great campsite right near the centre, we got put in a row with all the other small campers.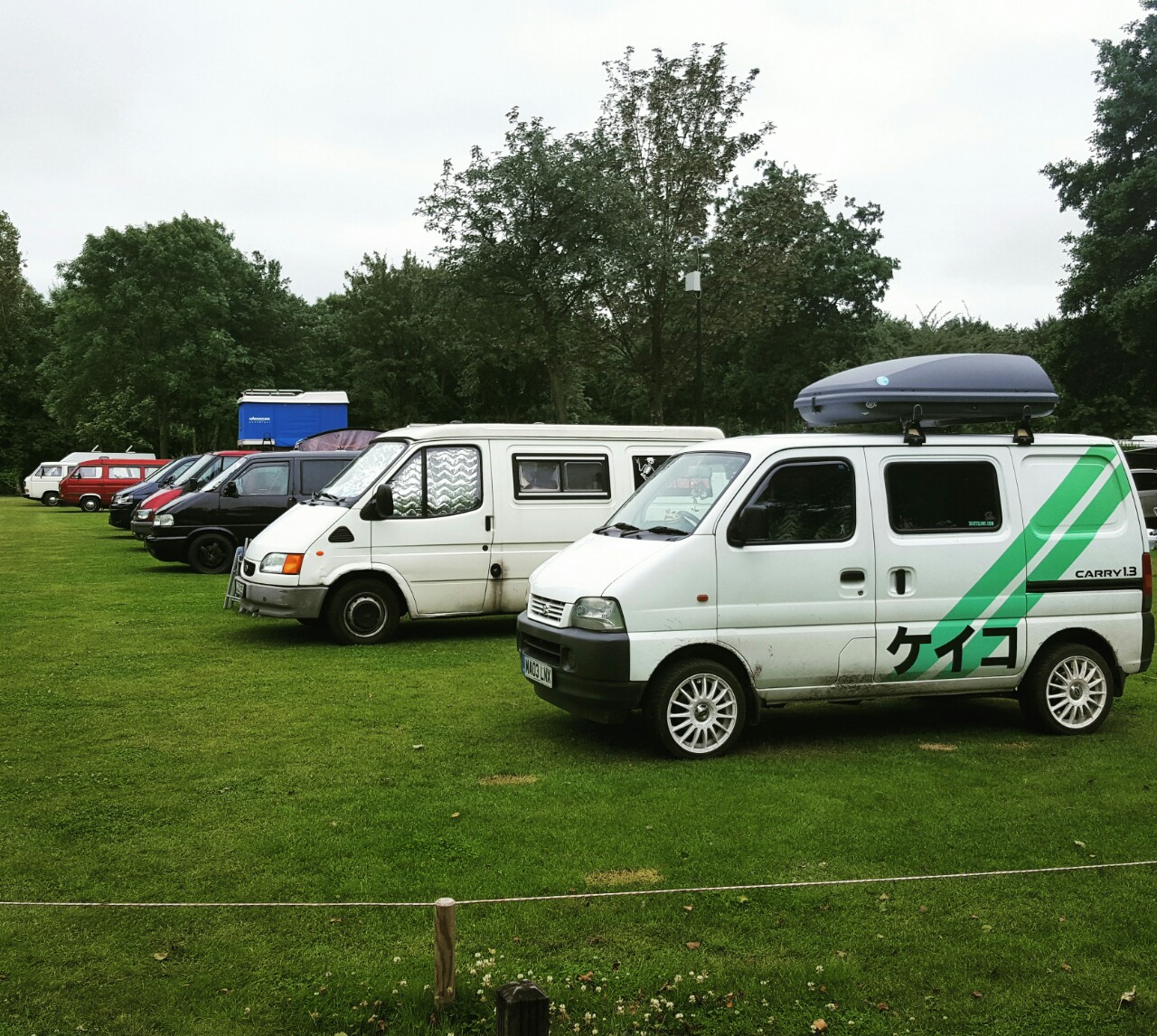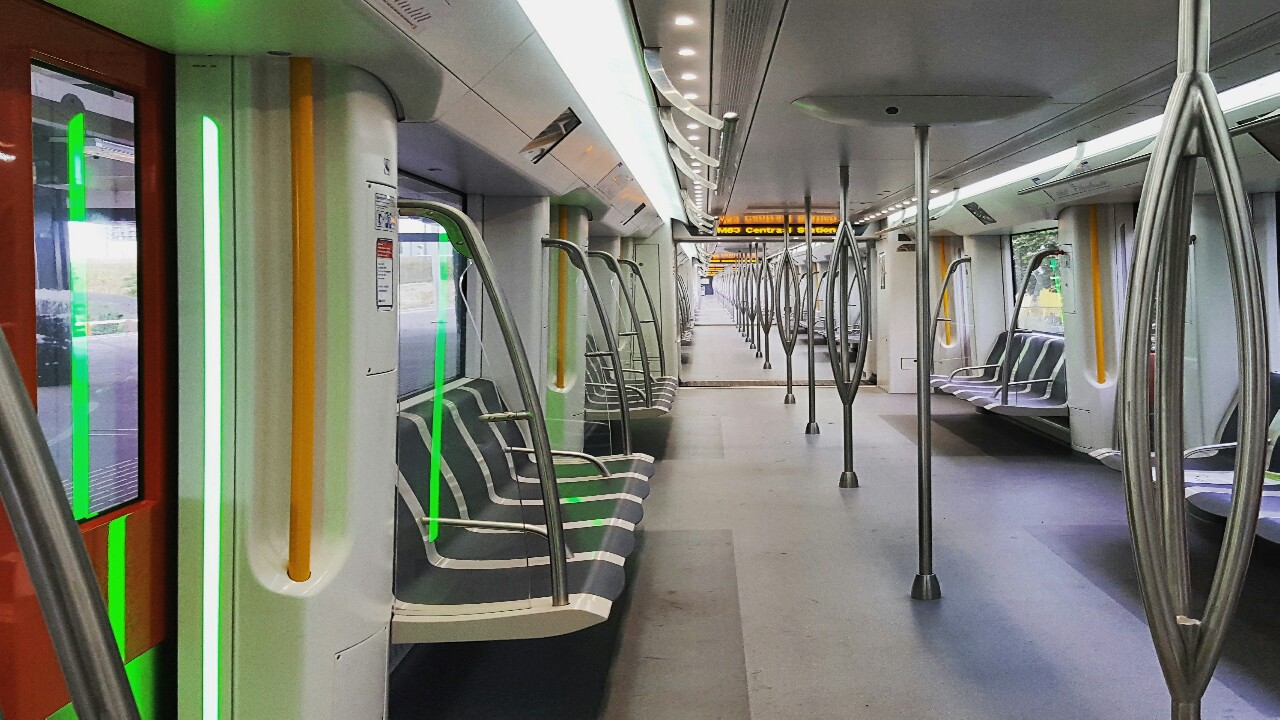 We caught the metro into town and decided to head for the Anne Frank house, however it had a 3hr queue so we gave it a miss.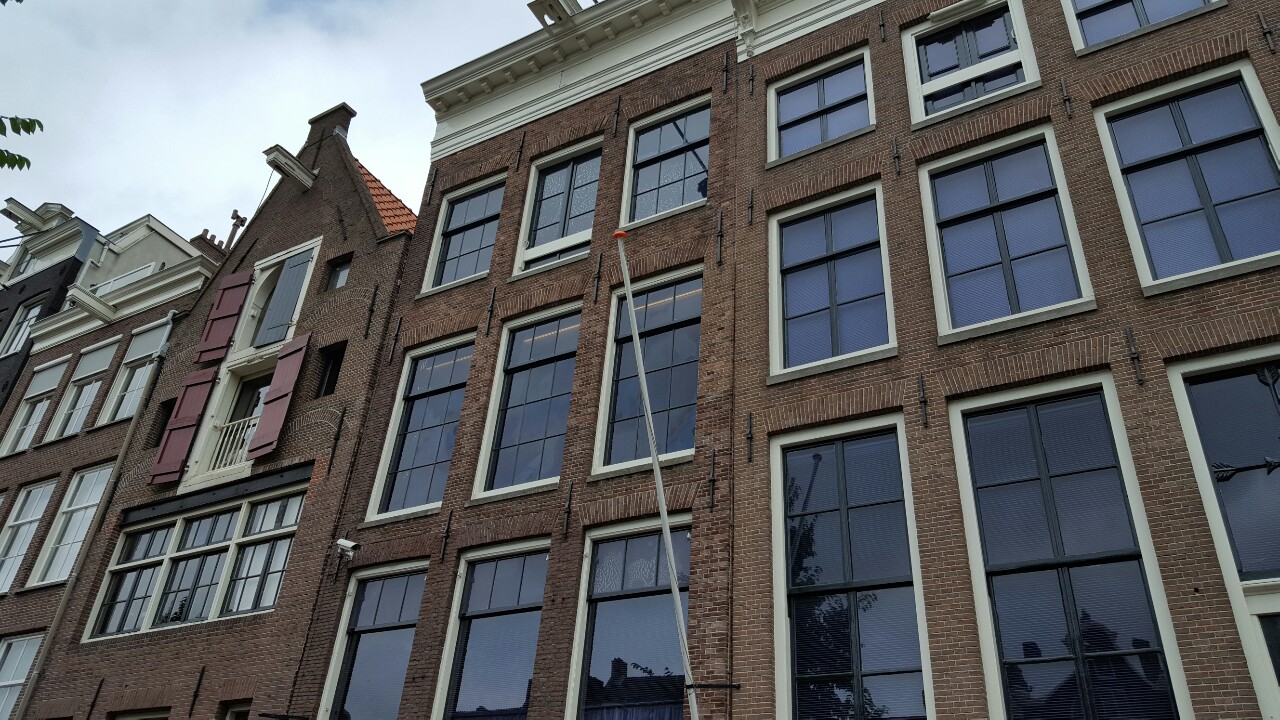 The whole city is very laid back and beautiful. Similar to Venice, some streets are connected by canals and lots of bridges.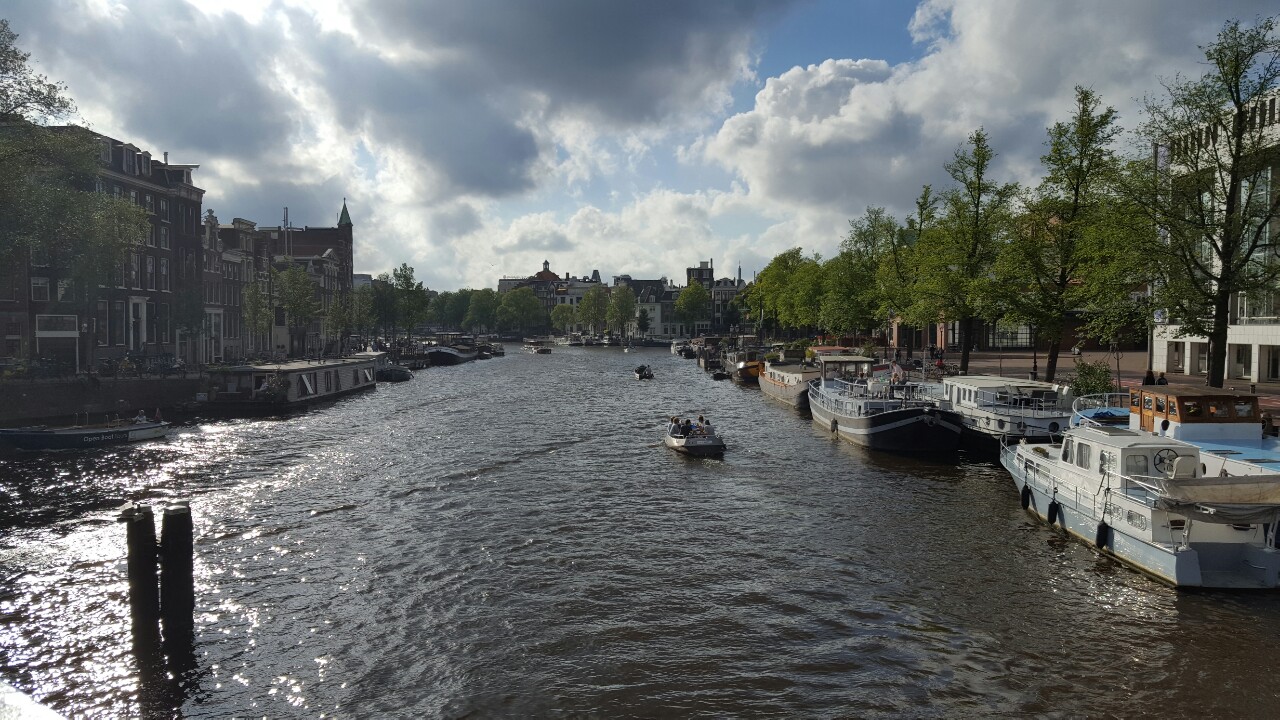 We also saw a few street shows while we walked around, performing for money.
The smell of marijuana was strong and frequent, we saw quite a few cannabis seed shops and coffee shops. Most coffee shops were busy with either tourists and local regulars.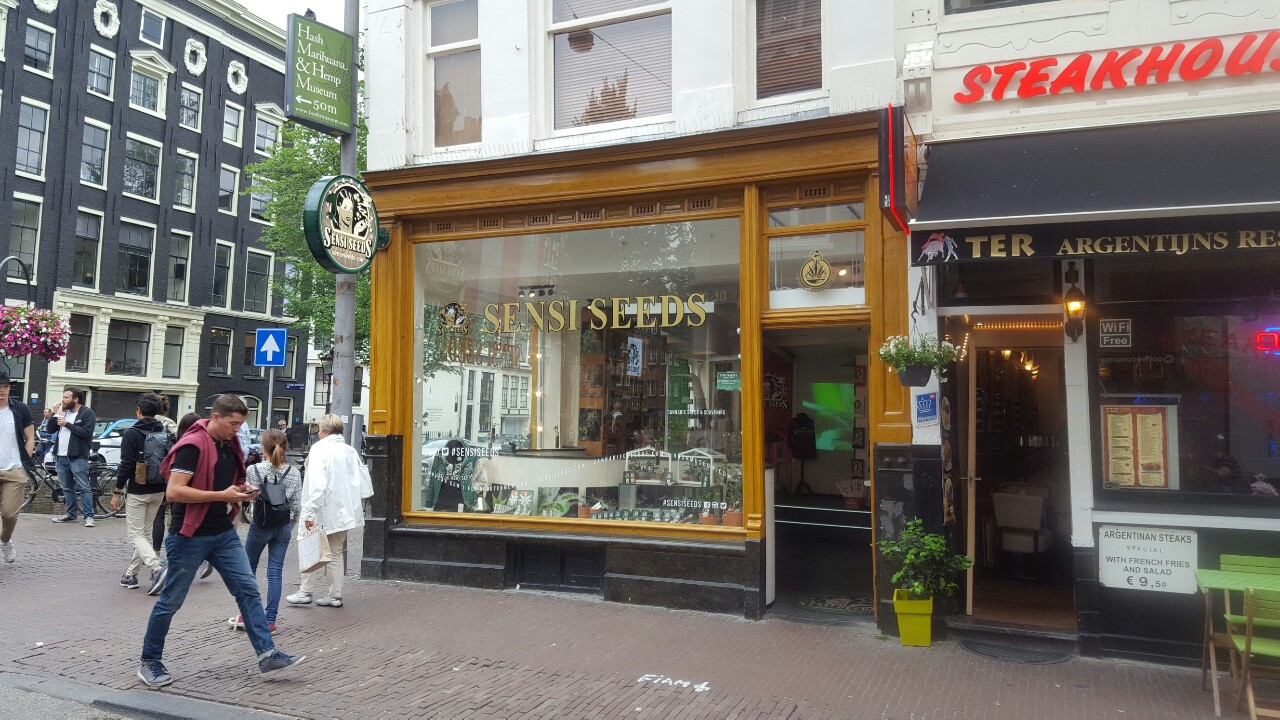 We walked around the centre until we came to De Wallen, the infamous red light district of Amsterdam. This area is also the oldest part of the city, dating back to 1385!
The streets were lined with brothels, red neon lights, strip clubs and theatres. Photos were forbidden, but on the streets there were hundreds of little glass doors with prostitutes behind of all shapes and sizes. They tapped on the glass and threw glances in the hope of attracting a customer.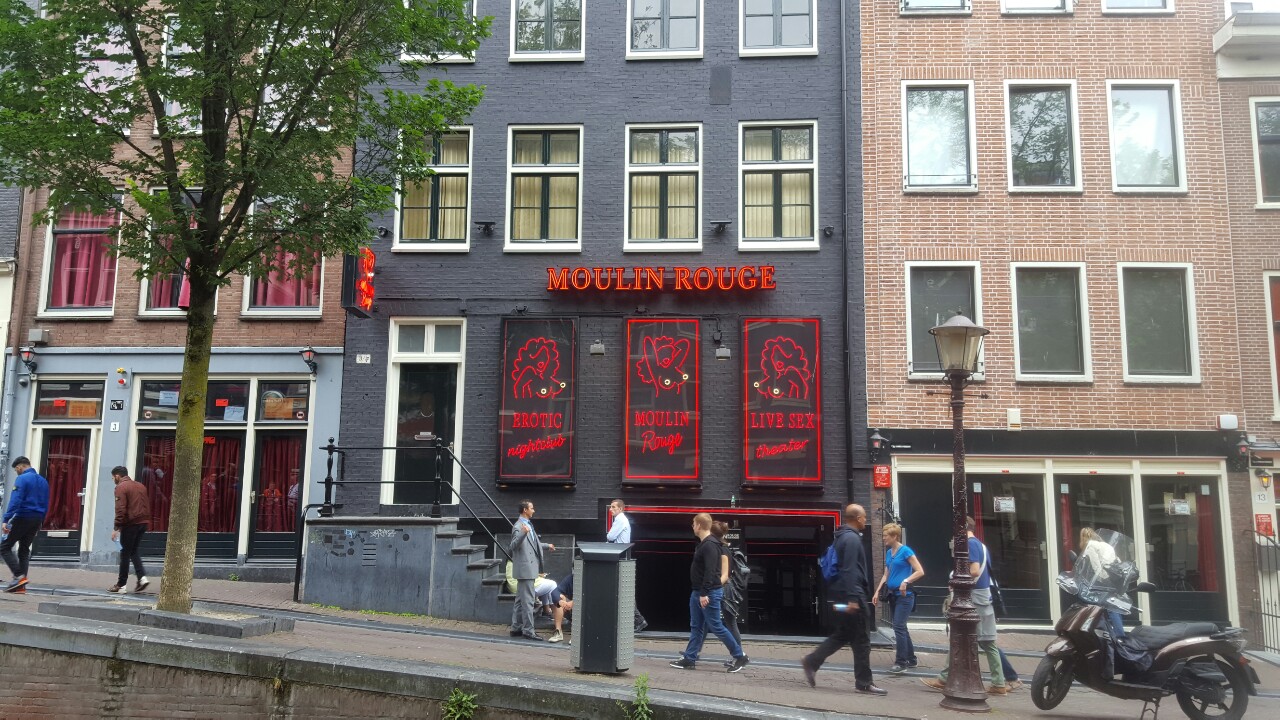 On the streets there was a mix of tourists, stag parties and locals. This is something you'd have to witness to fully understand, it was an experience you wouldn't get anywhere else, in public atleast.
After a drink we headed to the Pathé Tuschinski, a cinema built in 1921. The interior was very impressive, with much of the details done in classic Art Nouveau style. We watched the new Tom Hanks film in English with Dutch subtitles.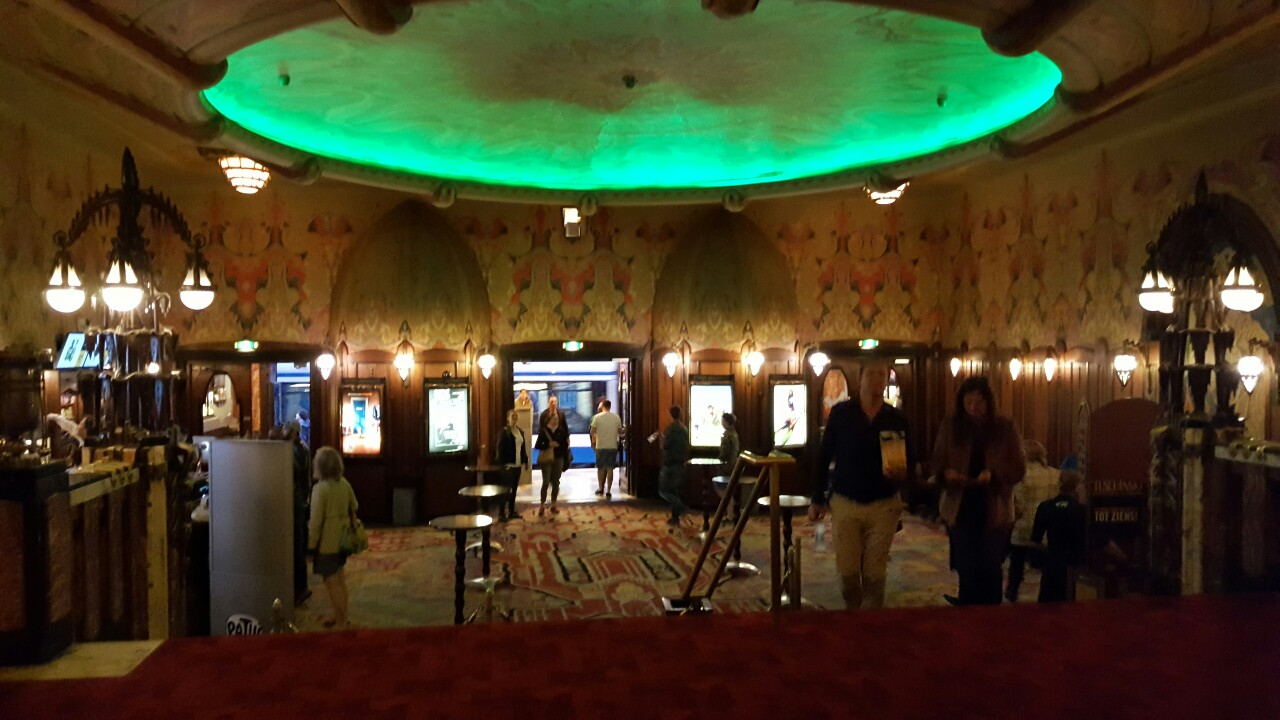 We walked back towards the station at night, where we saw a different side to Amsterdam, it was very lively with all the nightclubs and bars filling up with people.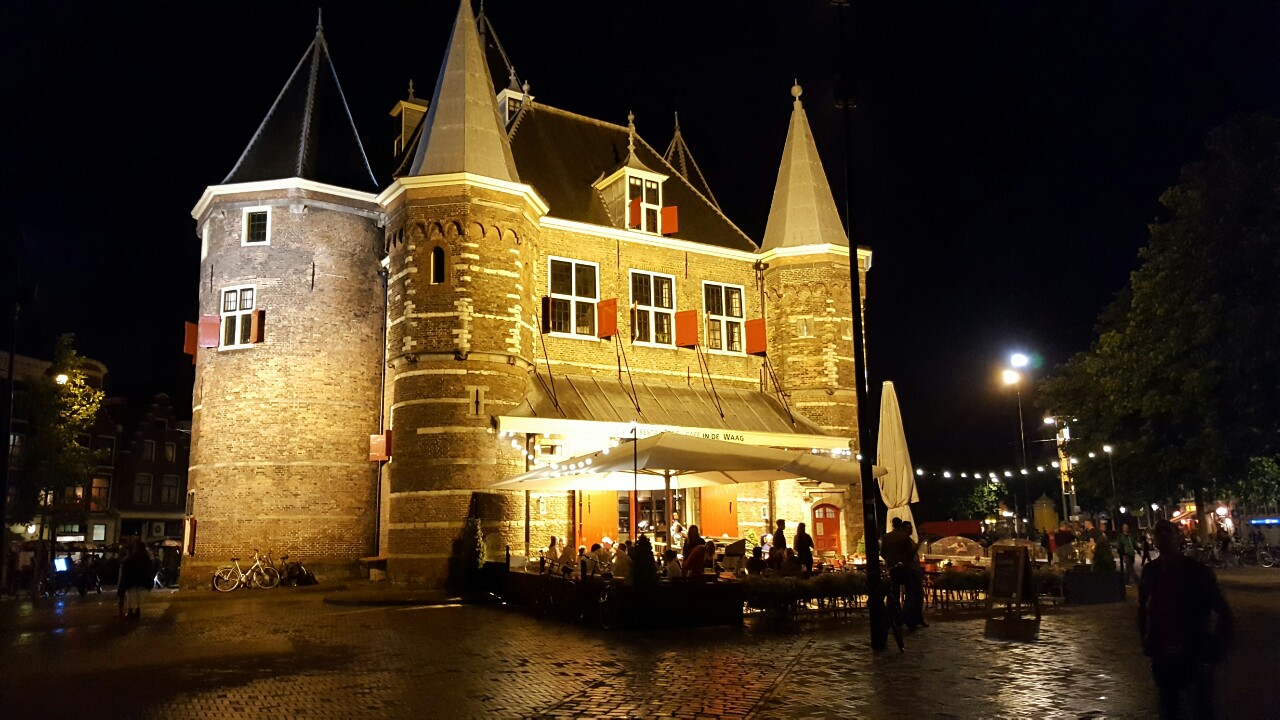 29 Nld - Amsterdam
We liked Amsterdam a lot so we decided to head back in again. We went to the Red Light museum to learn more about the place. It was interesting, we learnt about the area, laws and stories, but it was a bit tacky.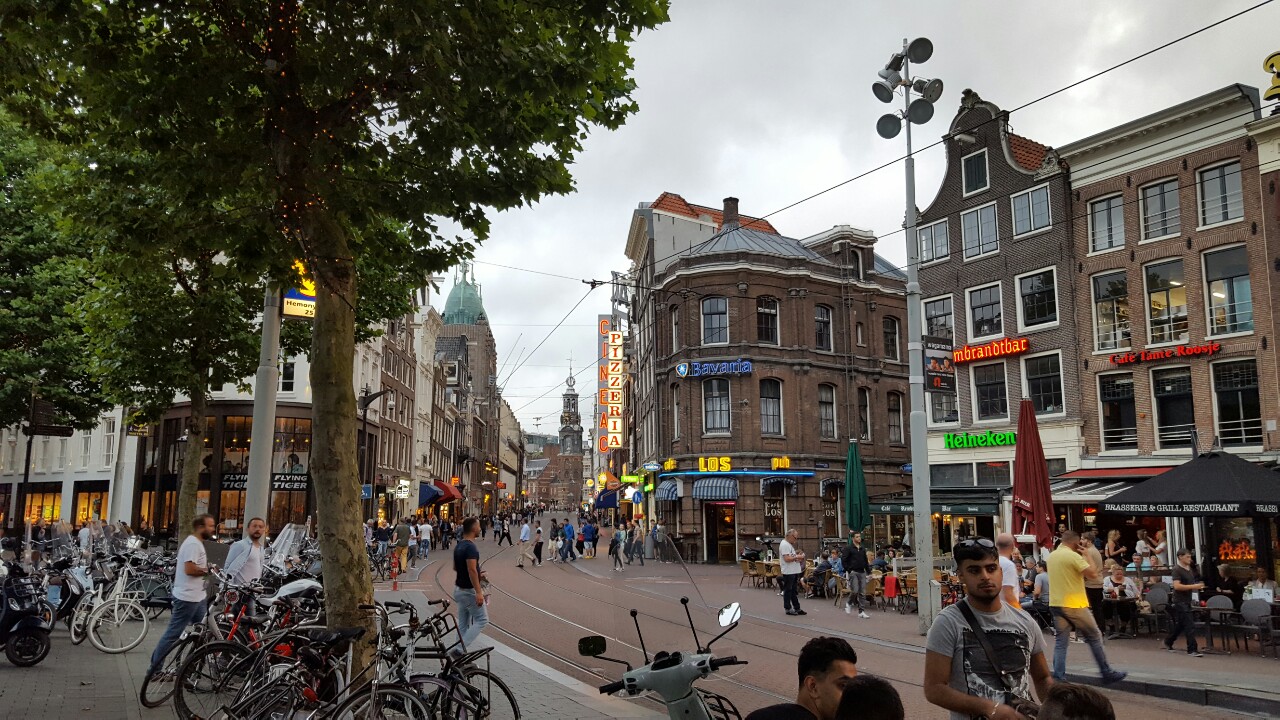 We got street noodles and ate them by the canal. On the water a lot of party boats went by, filled with people drinking and listening to music which was pretty cool.
Next we visited Ice Bar Amsterdam where we got drinks served in glasses made from ice!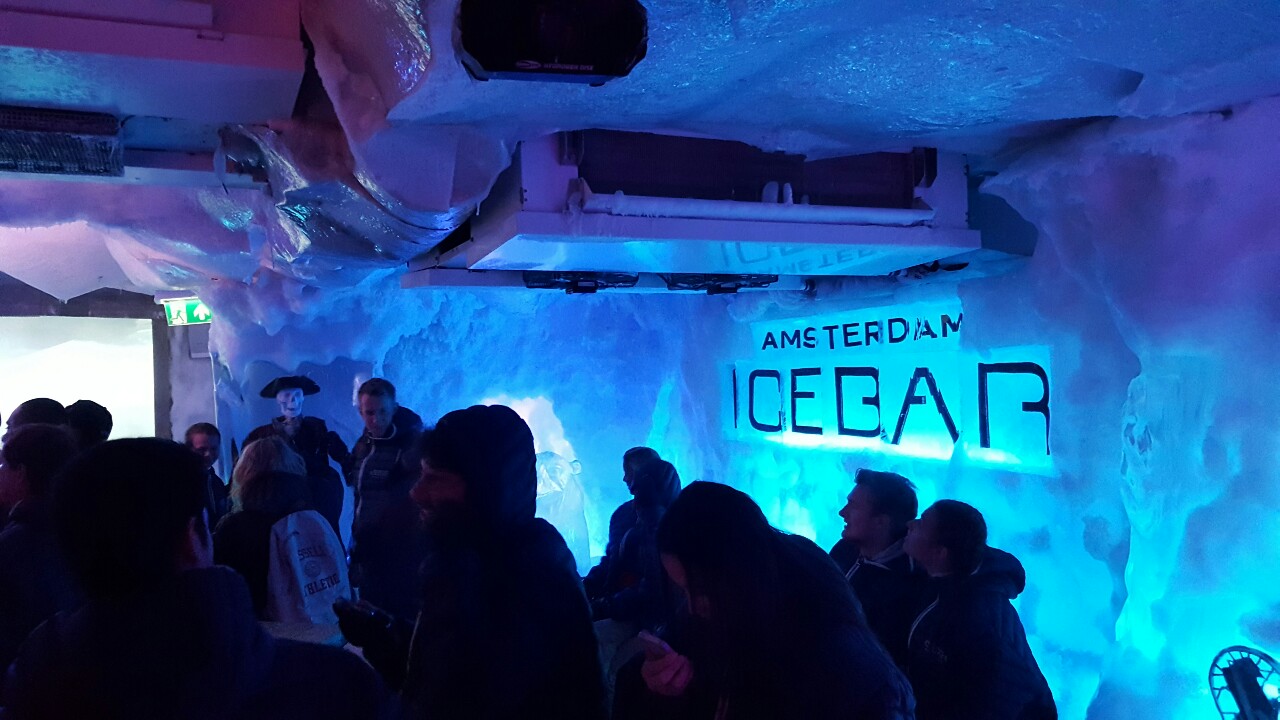 The temperature in the bar was -9.4°, we were given coats and gloves as we entered it was that cold.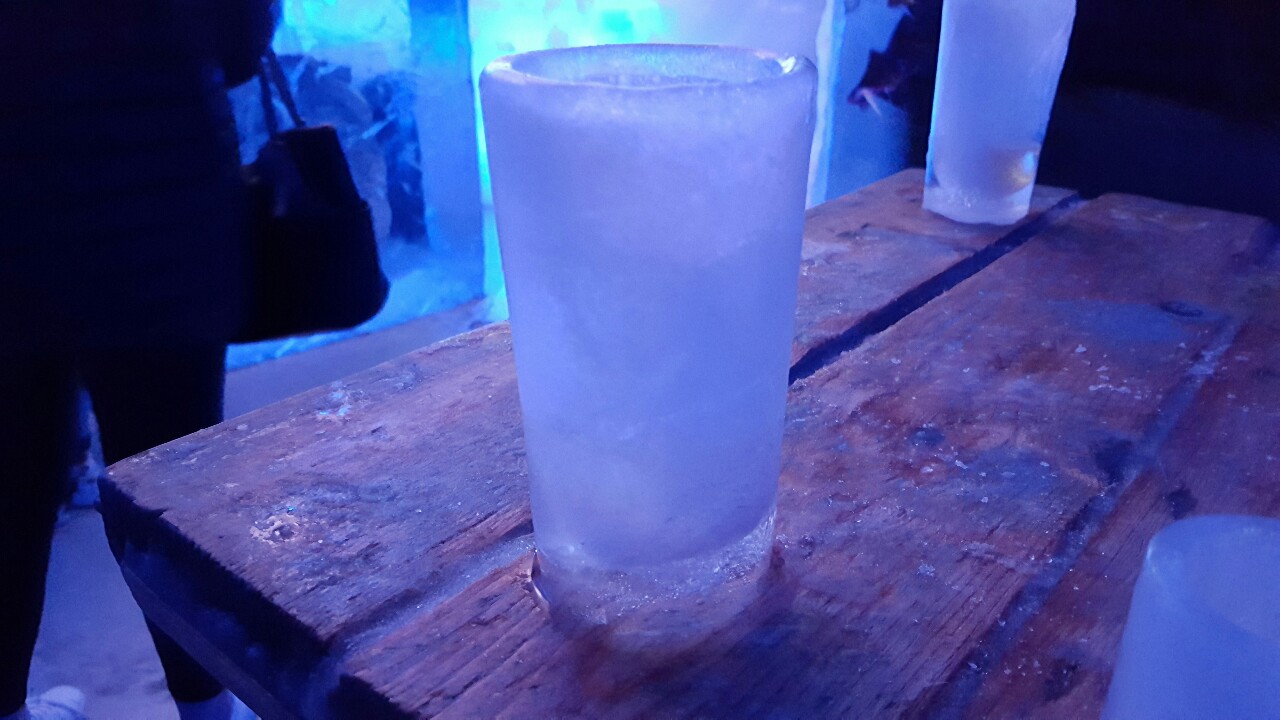 We walked around the city and came to a big botanical garden but it was closed.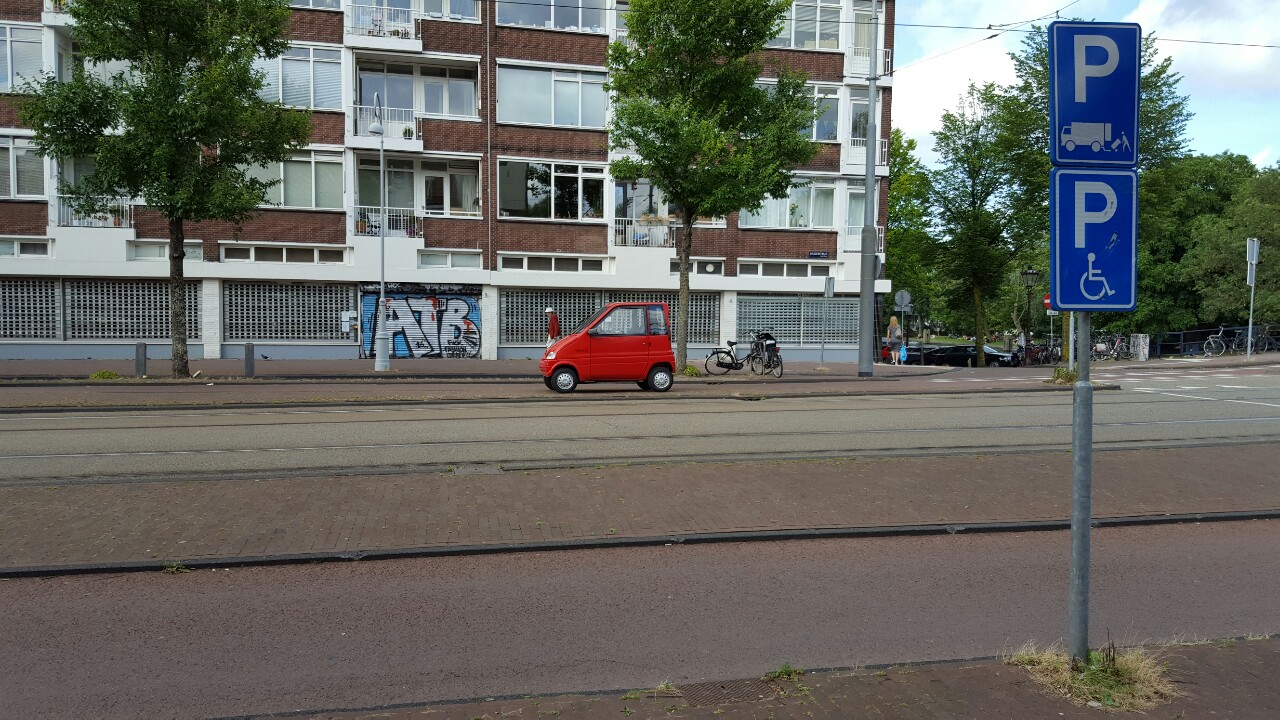 All around the city these tiny cars were scooting about, sometimes in the cycle lanes. I think they are rented for inner city travel as you would with a bike.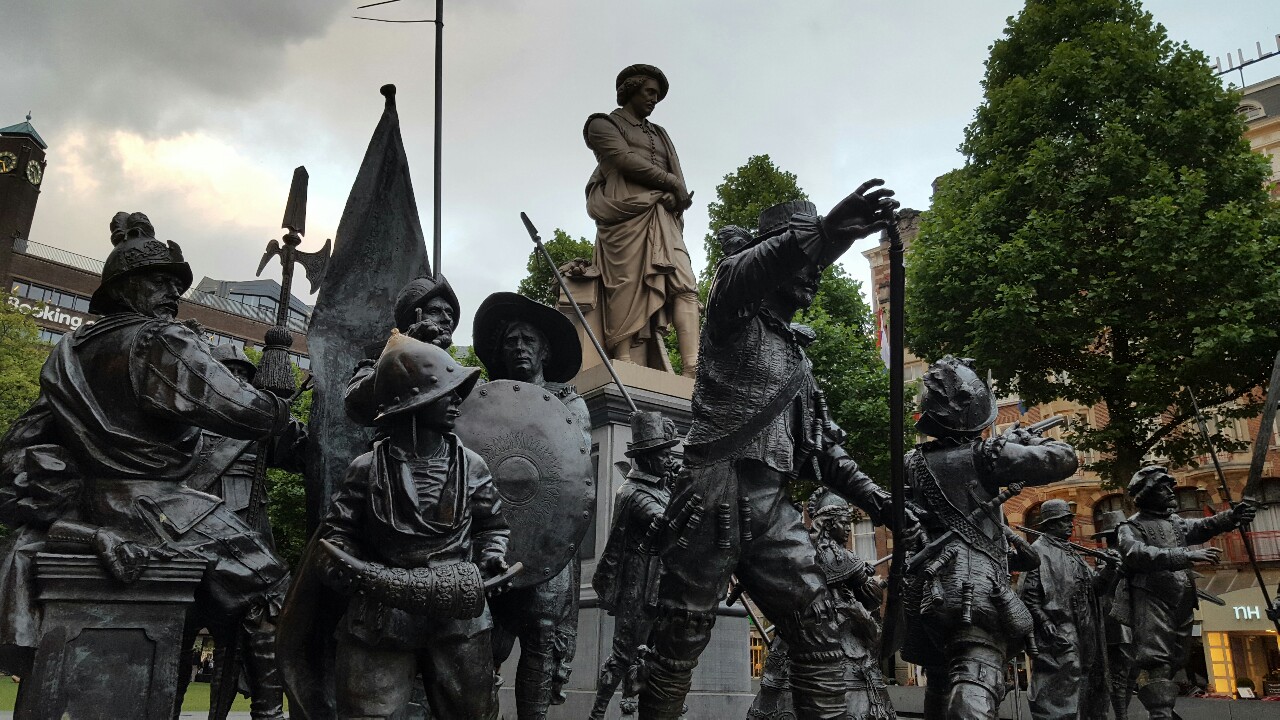 On the way back into the centre we stopped at a coffee shop and legally bought marijuana. It came pre-rolled and sealed in a little plastic tube. We spent about an hour at the coffee shop, where we also got mint leaf tea, then headed on back towards the city centre.
We walked around the centre again and as it got dark, we decided to walk down De Wallen one more time. This time the street had become much busier with all the red lit windows filled and huge crowds of people. The whole street glowed red pretty much and the prostitutes were occasionally opening the glass door, waving and stepping out.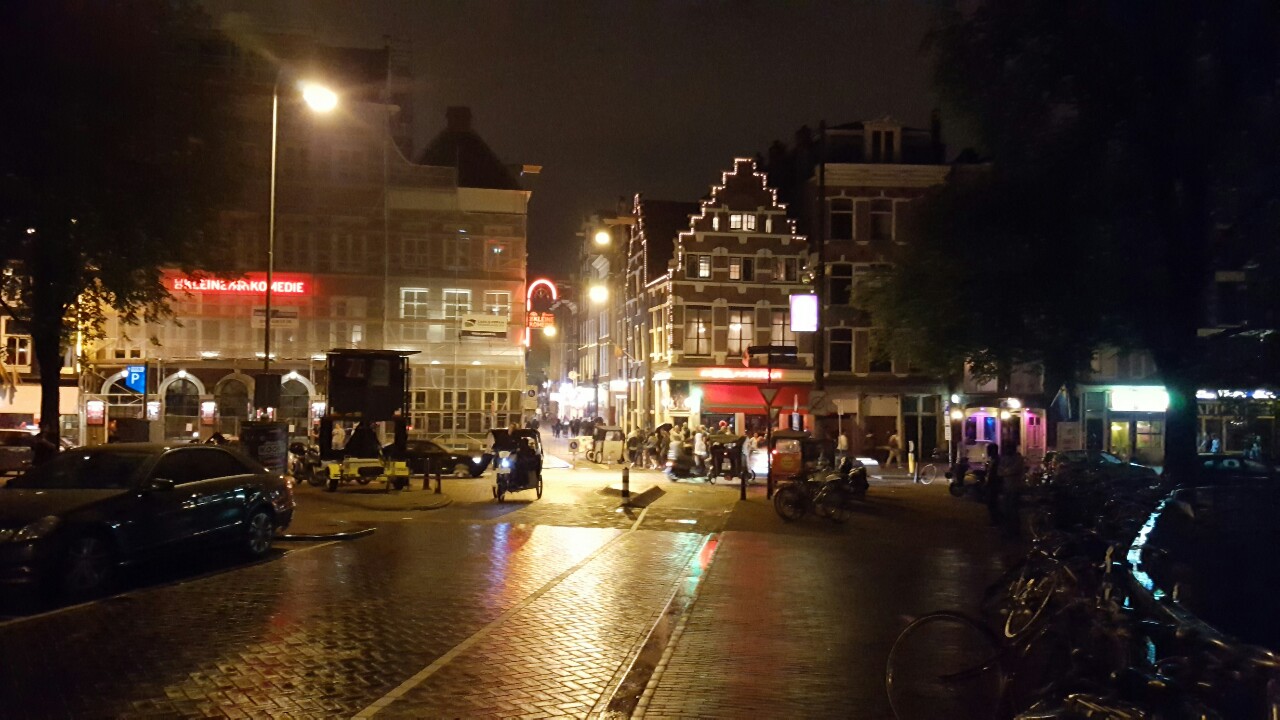 It was a shame to be leaving Amsterdam, the only capital city we visited on the trip. I think we'll definitely visit again sometime, especially as it's so close.
30 Bel - Bruges
We decided to have a chill day, following all the walking around the previous two days. We drove west across the border into Belgium, as we crossed there was a lot of deep tunnels that went under rivers and lakes.
In the Belgian supermarket, I found this Cherry flavoured beer, it was really sweet but still tasted like beer too. I might try to order some when we get back!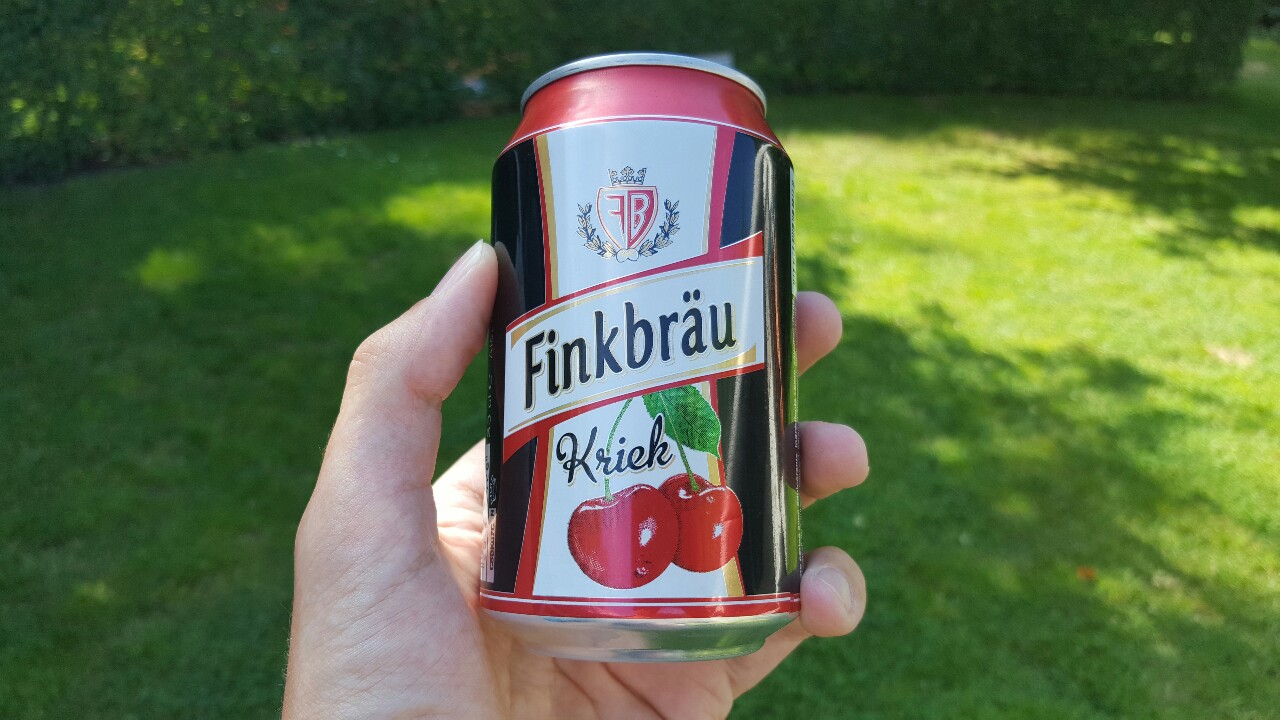 We stopped at a campsite in Bruges, it was a pretty cool site which had a sort of hippy vibe. We made fajitas on the camping stove and just chilled at the campsite for the rest of the day.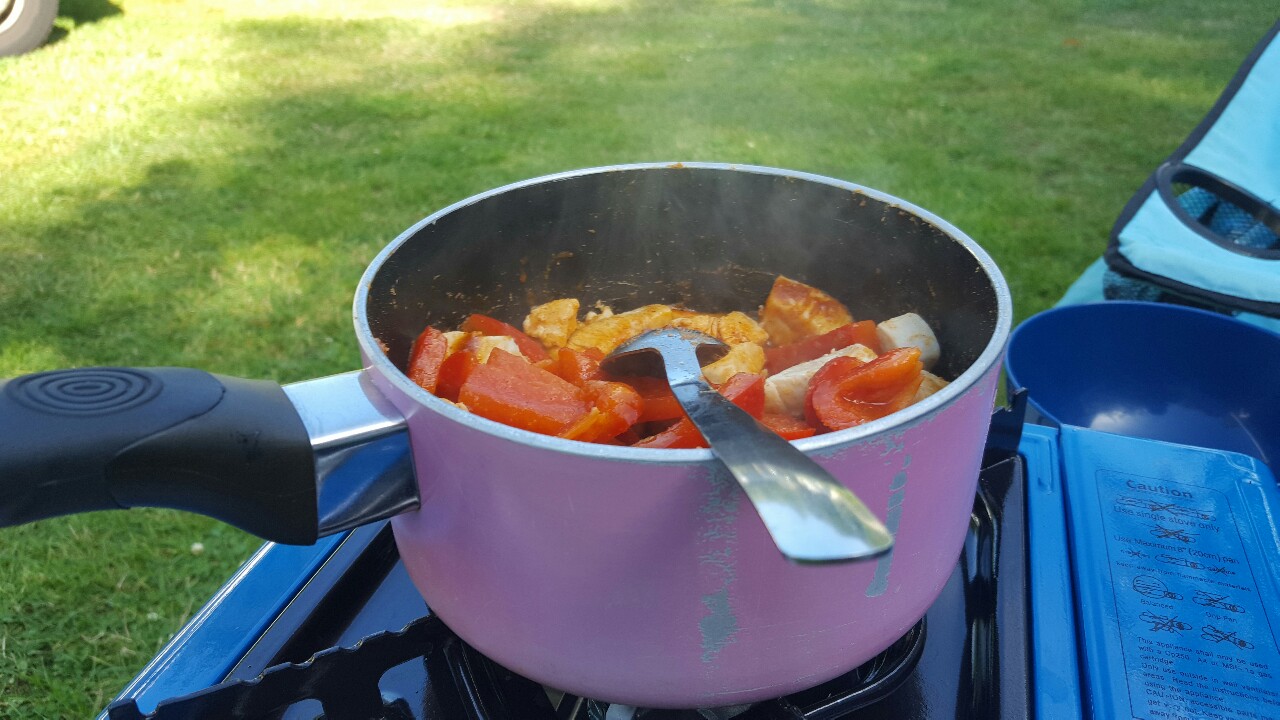 31 Bel - Bruges
After reading a little about Bruges, it really sounded like a cool place with loads to do. We were able to walk into the main walled, medieval part of the town on foot.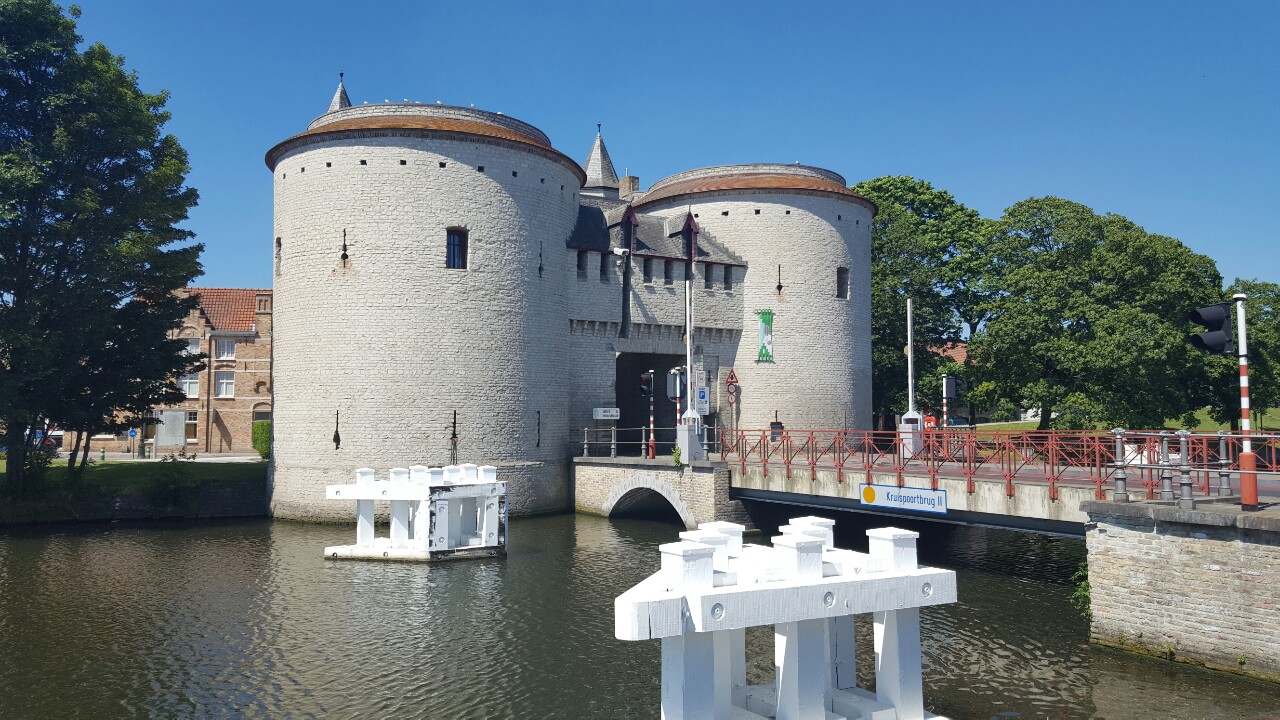 The main square in the centre is looked over by The Belfry a tall medieval bell tower.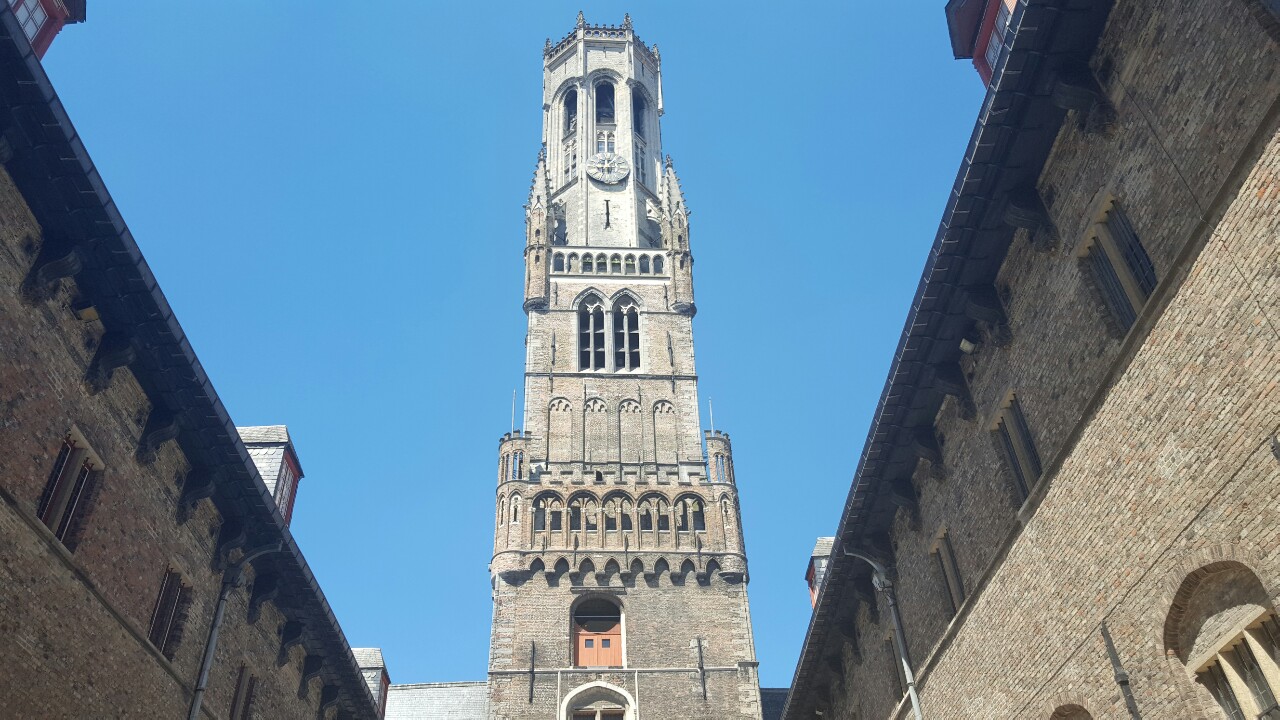 We had a walk down the smallest street in Bruges, De Garre.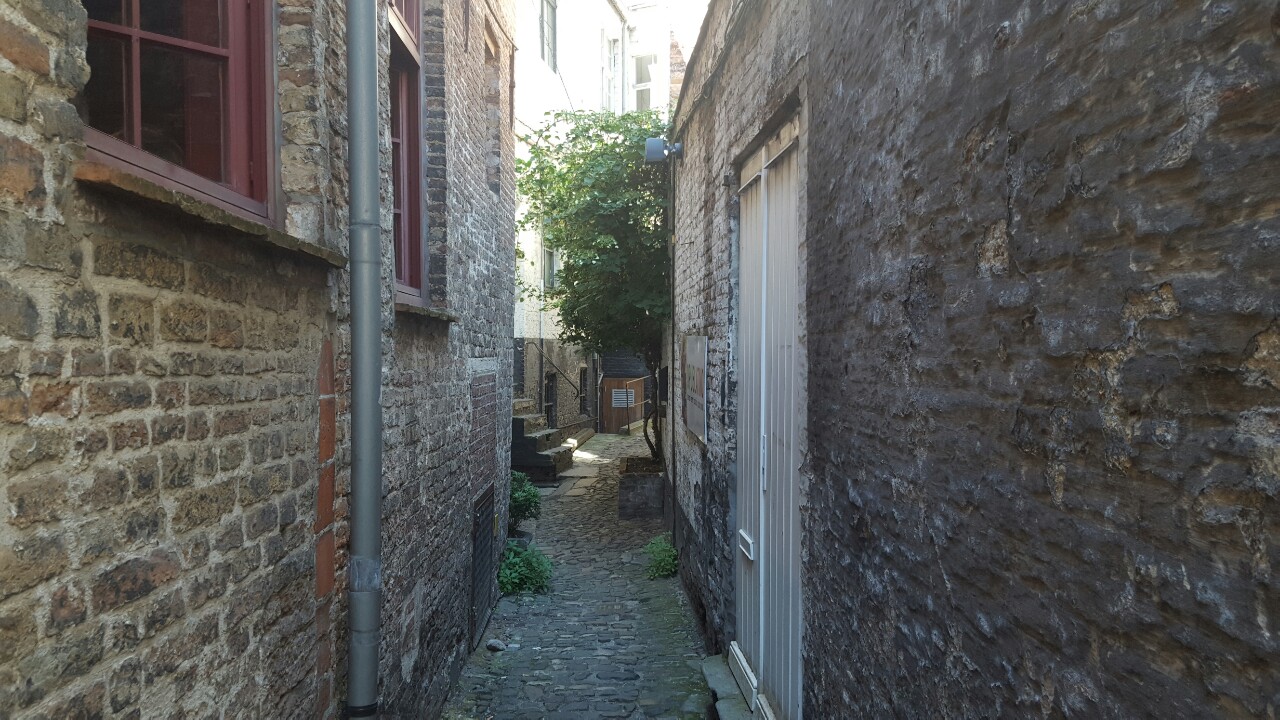 We visited the Blood Basilica where the blood of Christ is supposedly kept. Inside there was a queue of people waiting to receive a blessing and look at the blood.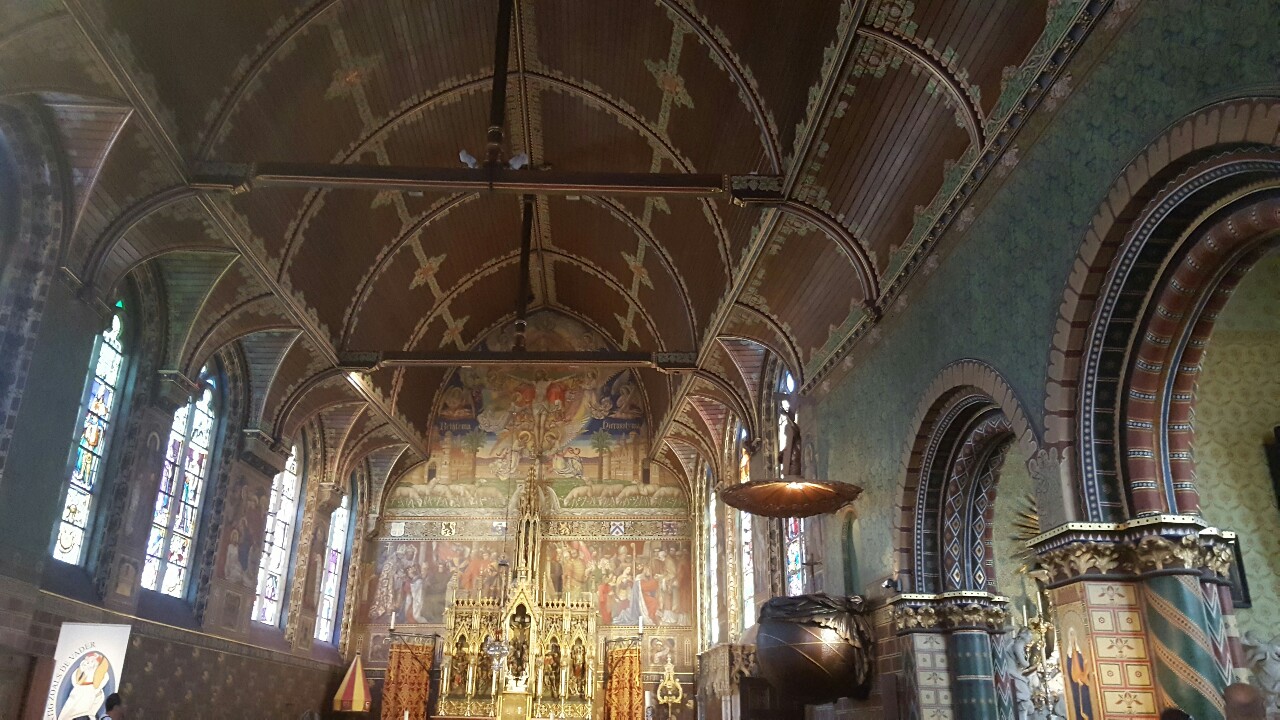 A map we picked up had a tip that it was possible to ask at the reception of a hotel to visit the basement. Inside there was the remains of a really old cathedral, many of the walls were still intact.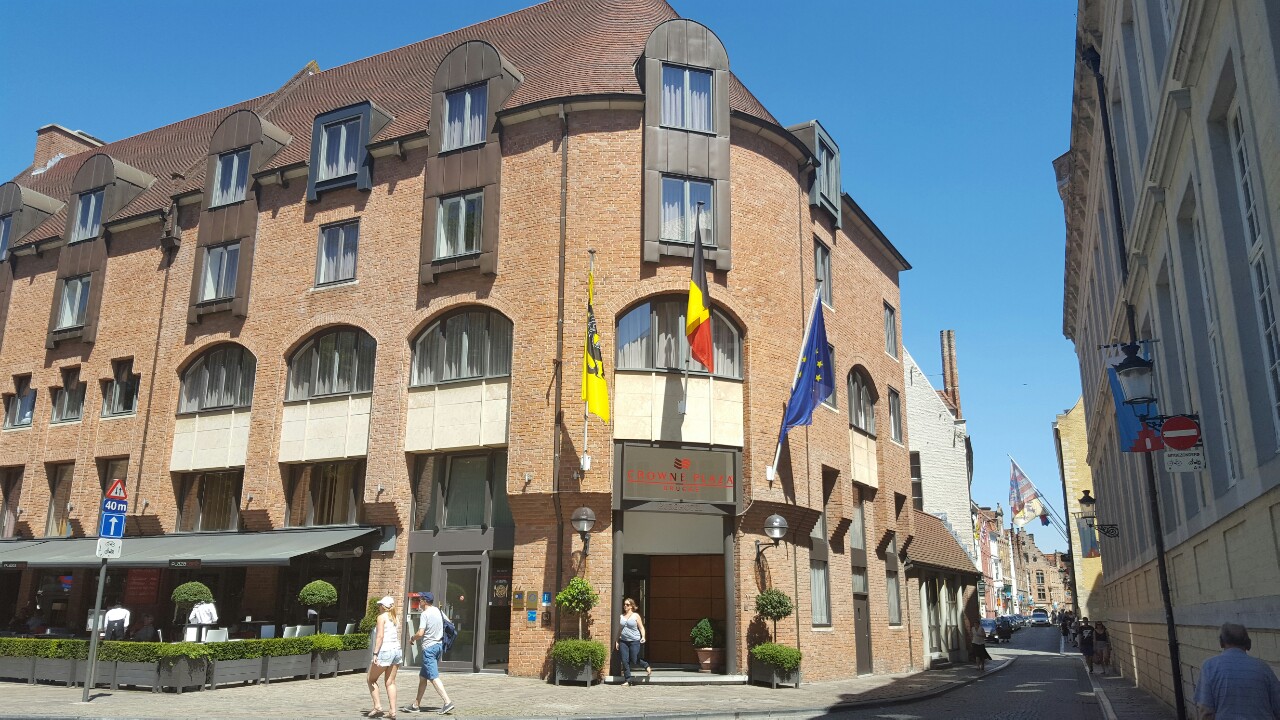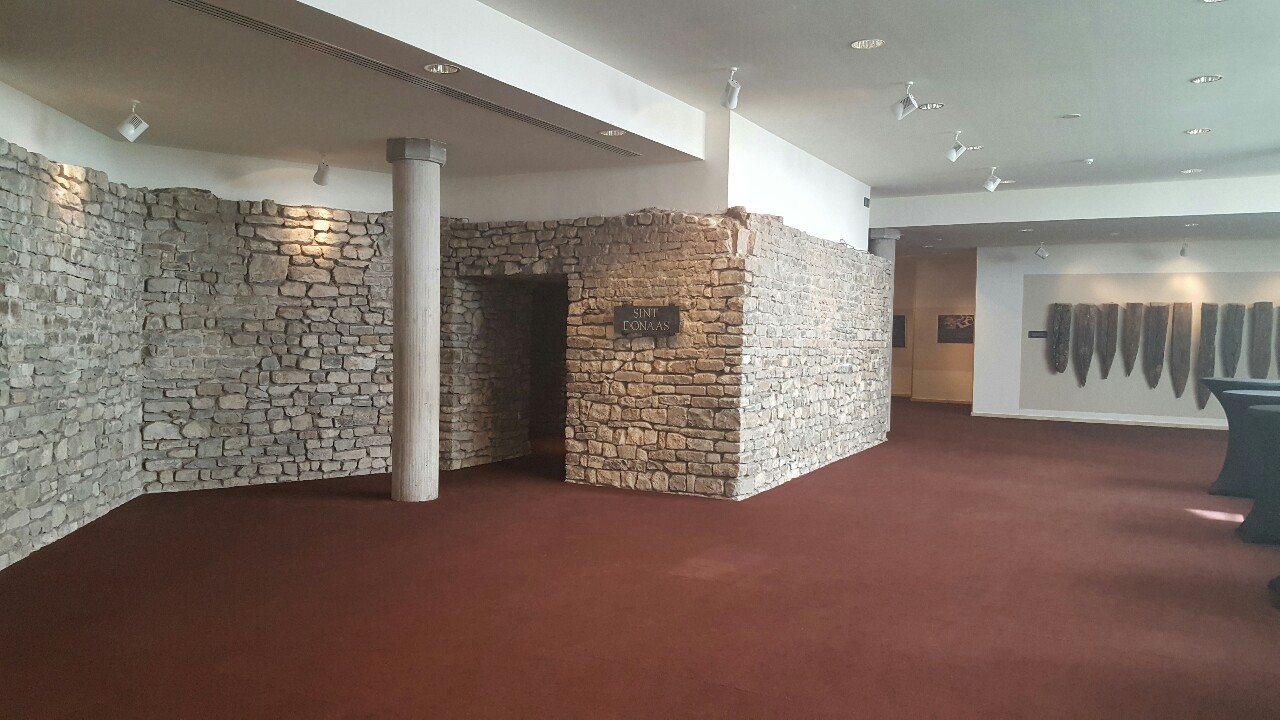 We struggled to find a place to eat that wasn't over priced, so instead we went to the supermarket. We picked up some food and I found these cute tiny beer cans!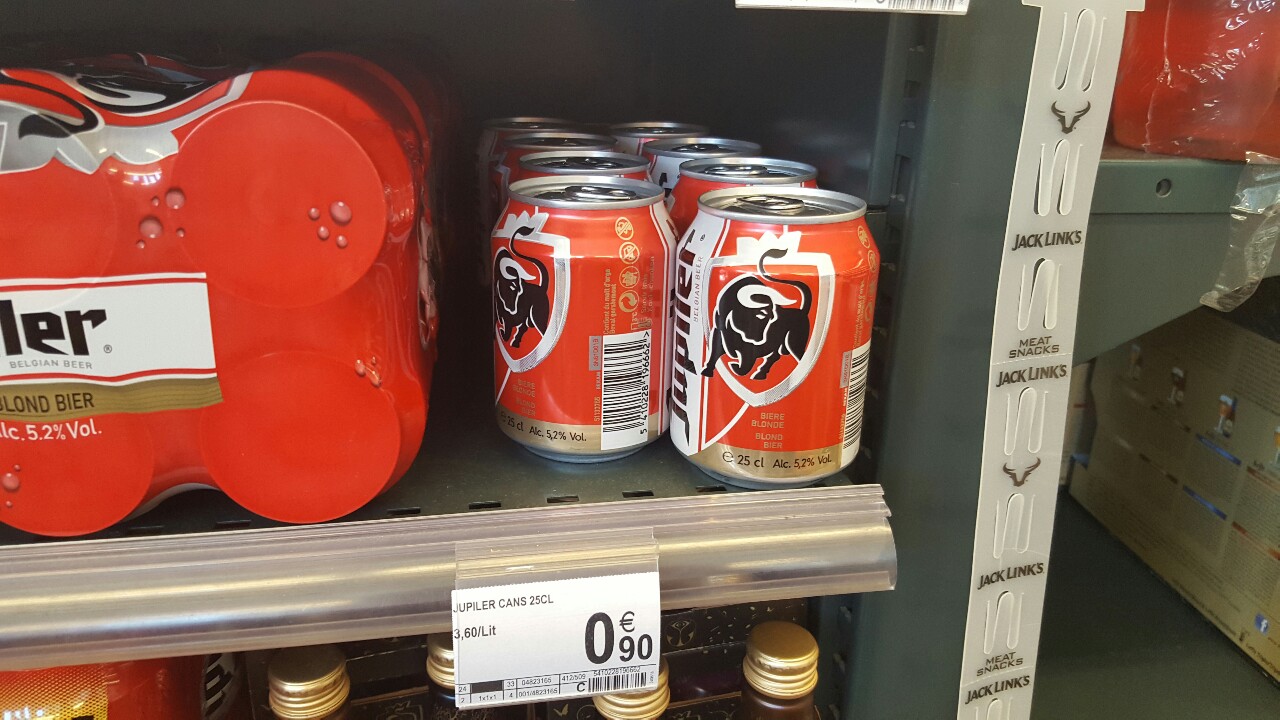 Just outside the main square we found a quiet park to eat at, which worked out much better than the restaurants anyway!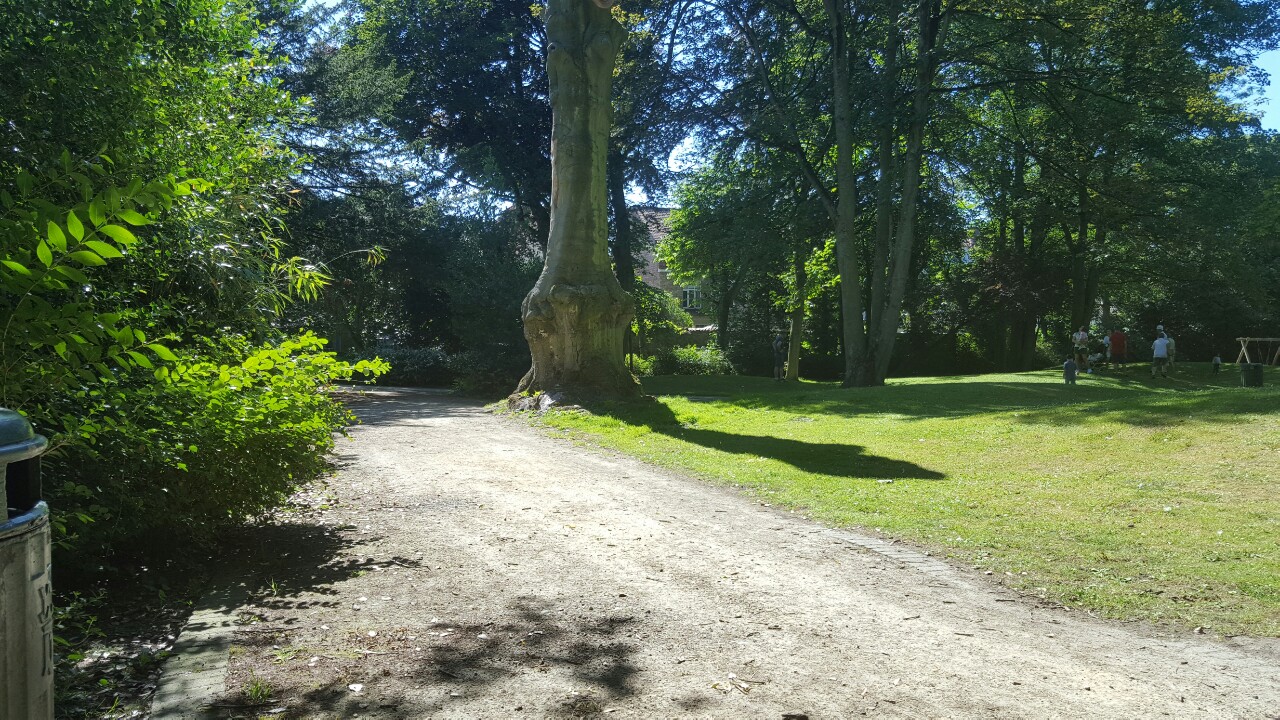 On a street corner, someone from long ago used an upside-down cannon as a buffer to stop horse carts damaging his building…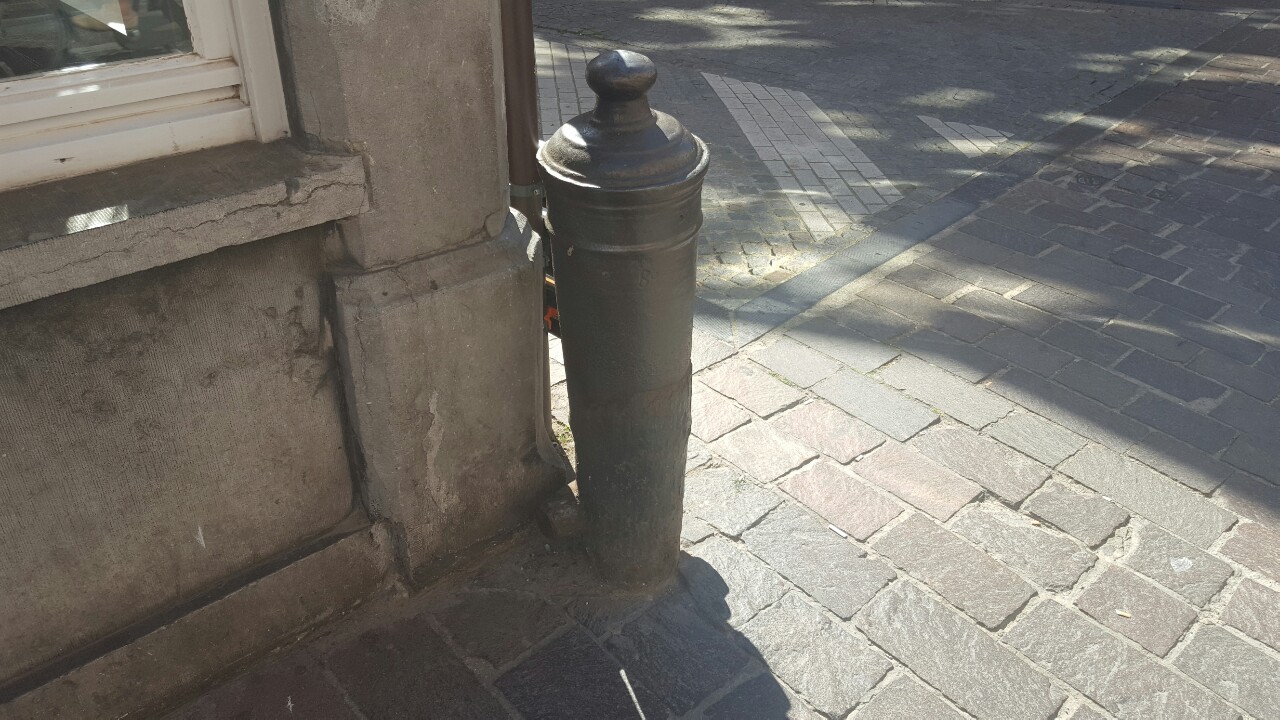 Across the road from the cannon, a friend had gave me a tip to visit the Beer Wall. Inside upthere was indeed a huge wall of beer and a little bar at the back.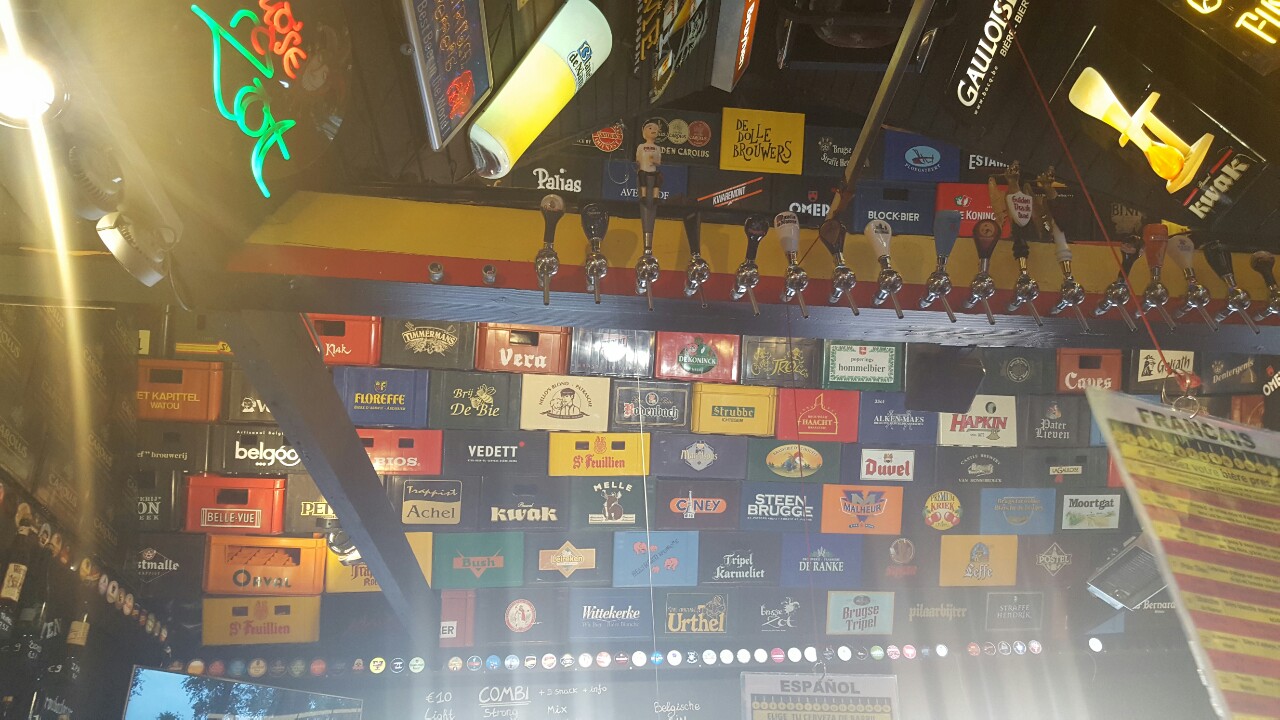 I ordered a combination of beers that included four small glasses and snacks.
Afterwards we headed down the road and managed to get into the Chocolate Line shop, just before it closed.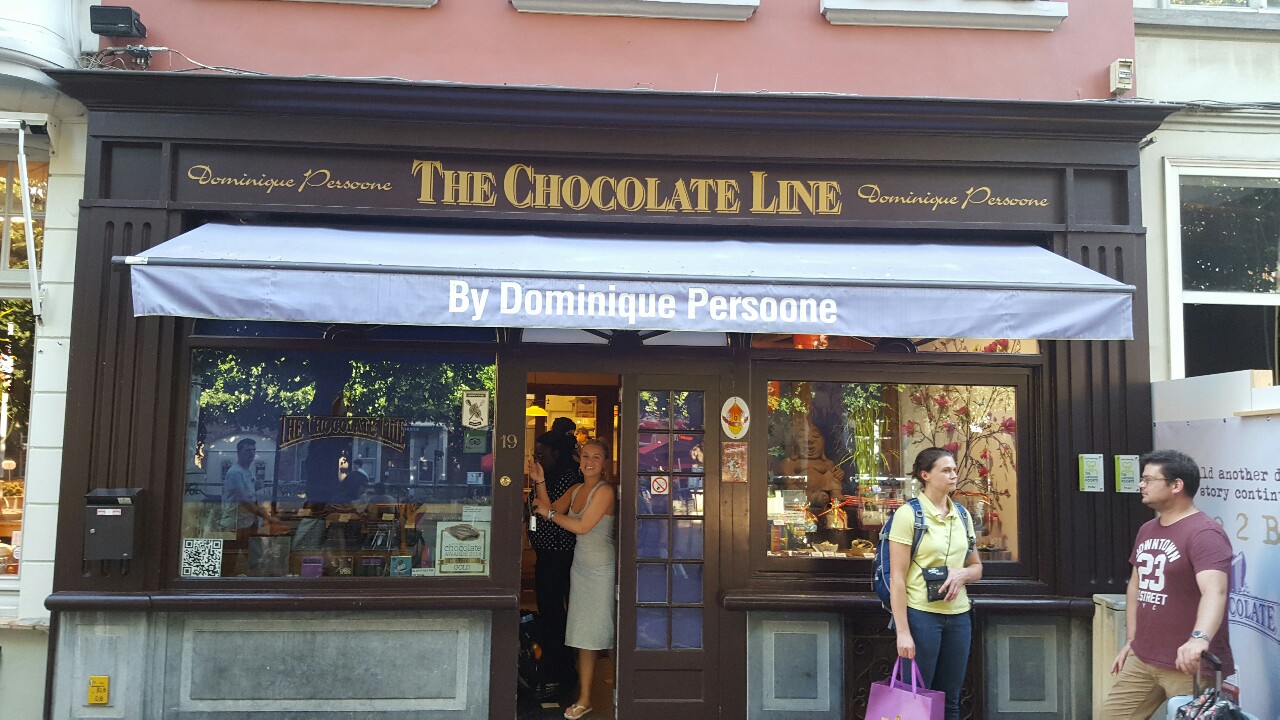 We asked for a recommendation and were given some really weird flavours, including Cabernet sauvignon flavoured with Cabernet sauvignon vinegar another containing vodka, that was nice too!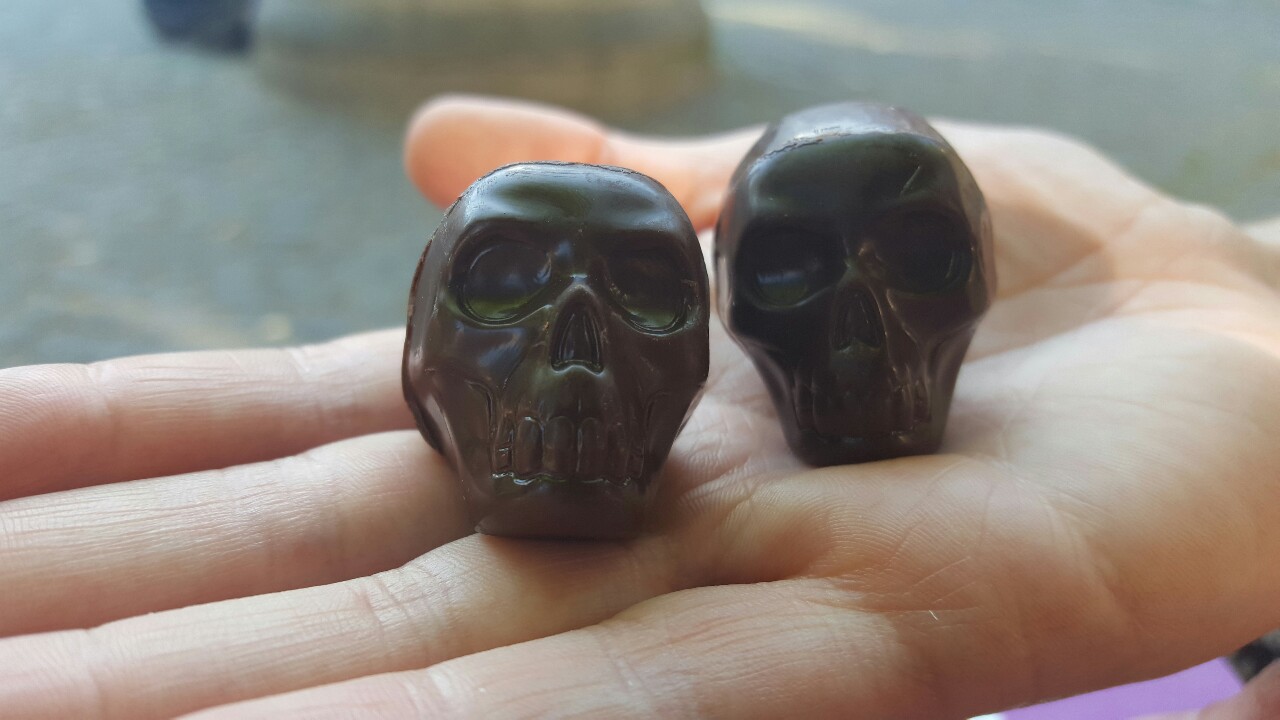 32 Fra - Dunkirk
We left Belgium and headed along the coast to the town of Dunkirk, famous for being the setting of the largest evacuation in military history.
There was a really long beach that led right into the main town, we walked down it and headed for a museum.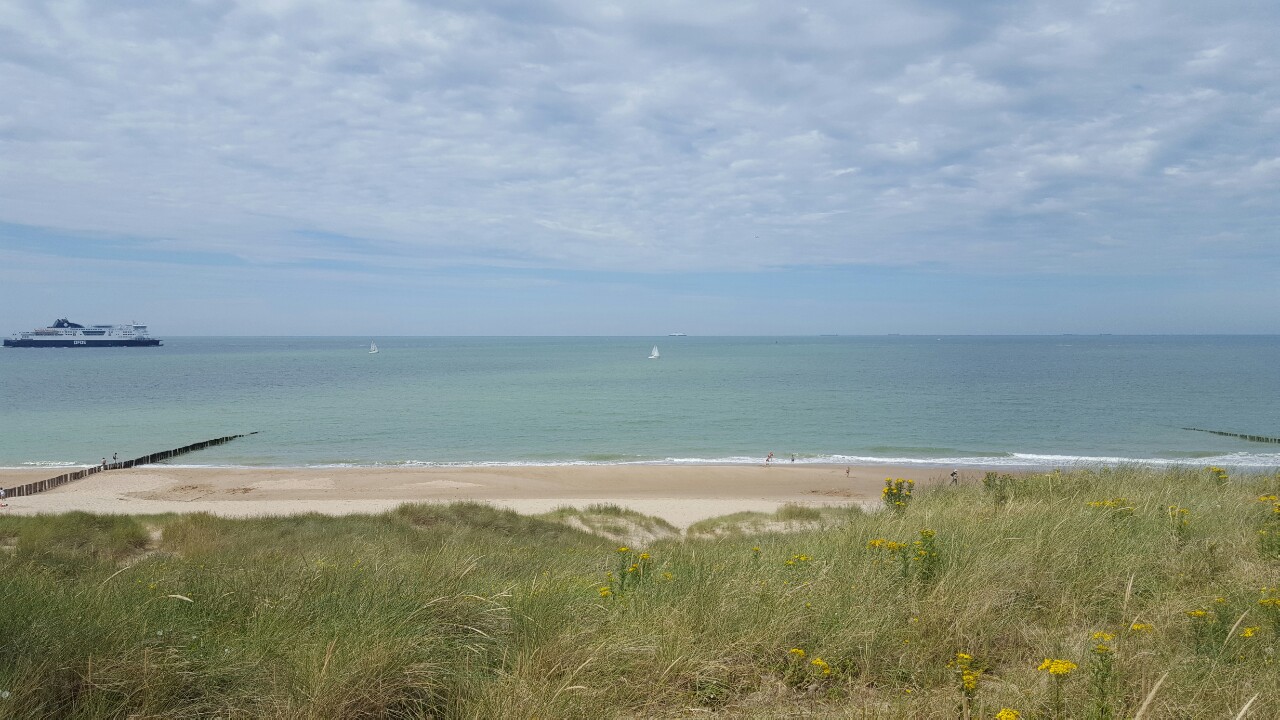 The museum focused on Operation Dynamo, the codename given by the British at the time.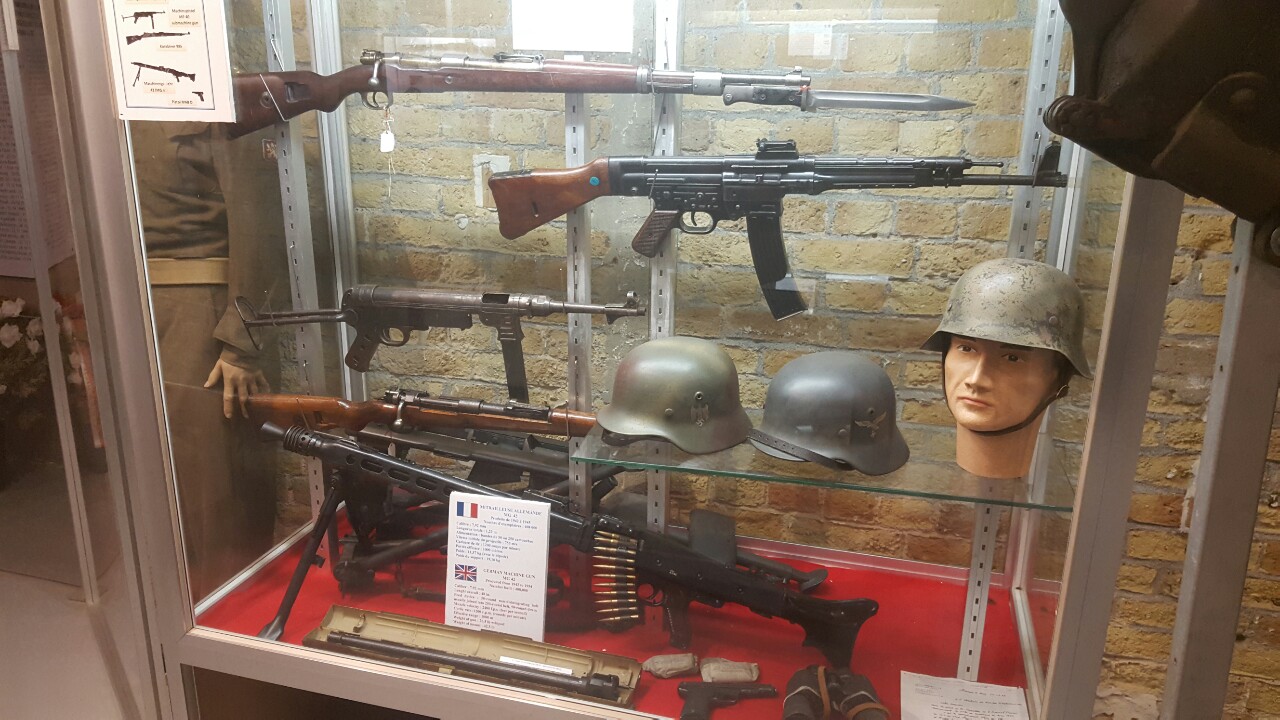 Afterwards we walked back up the coast and got a slush!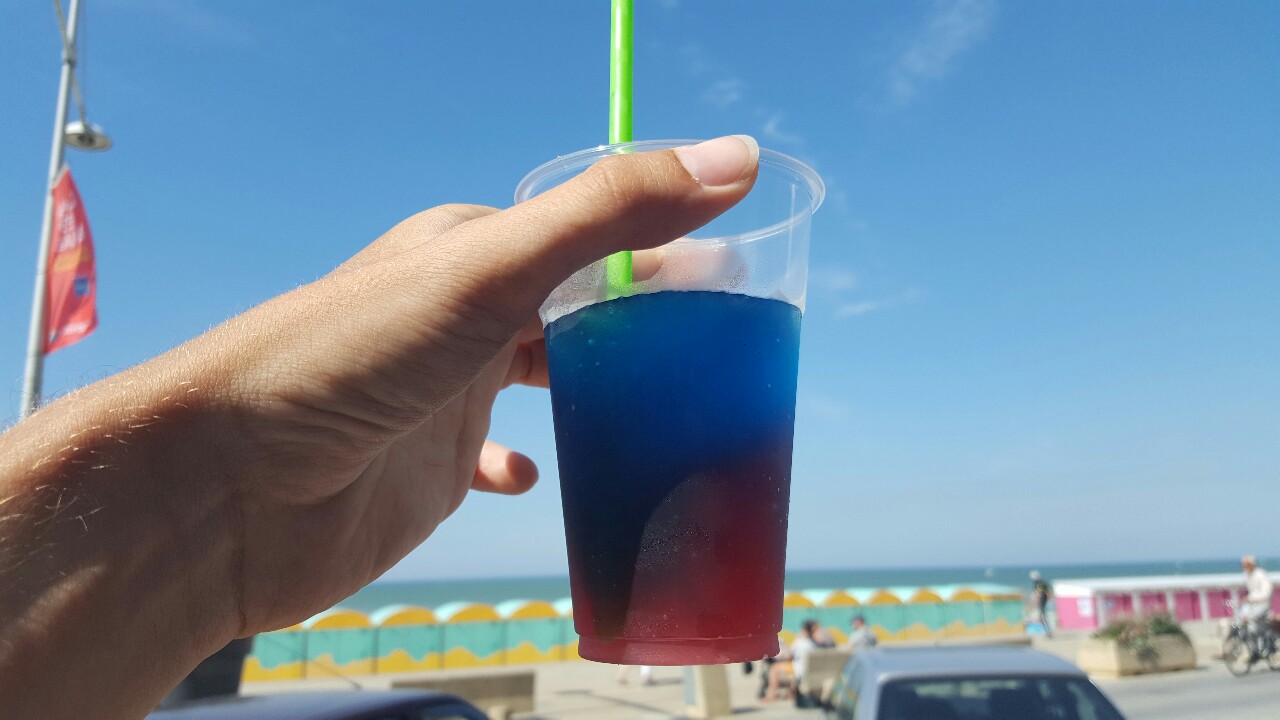 33 Fra - Dunkirk
In the morning we got the standard french coffee & croissant combo.
We walked down to the beach again, but this time we headed the other direction, away from the town centre.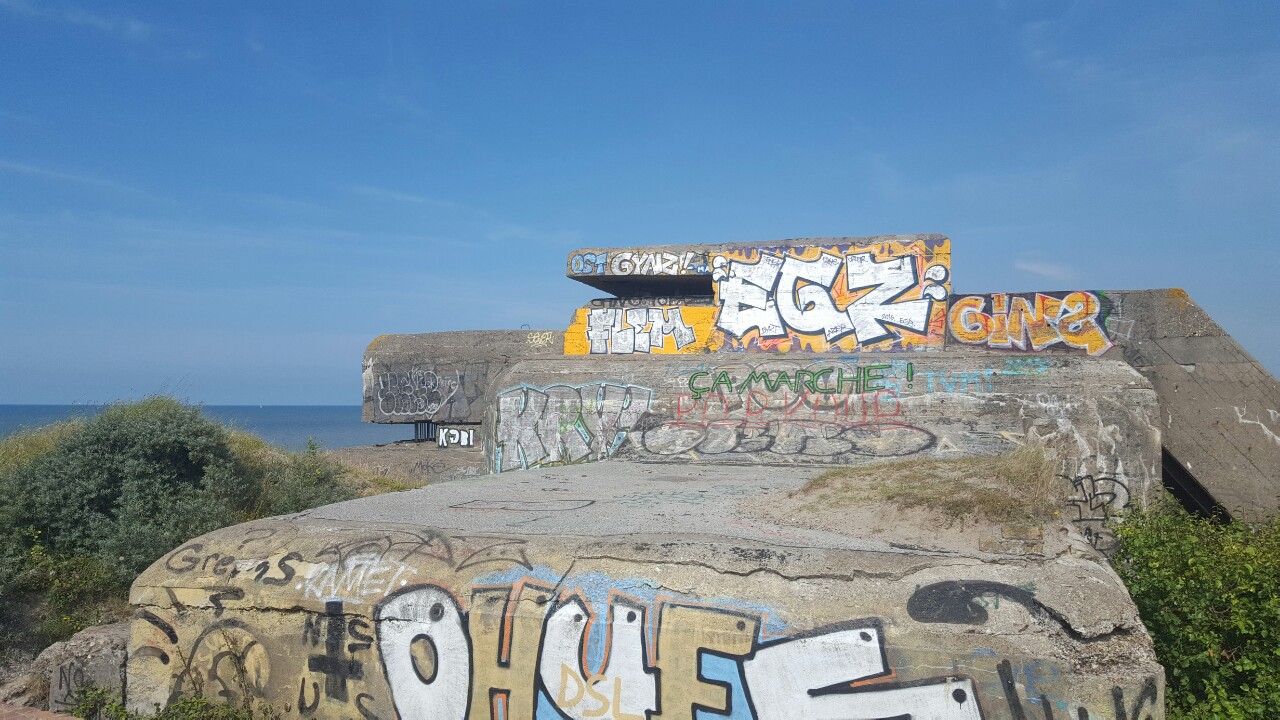 To our surprise, there were loads of broken down bunkers and pillboxes scattered around a long stretch of the beach.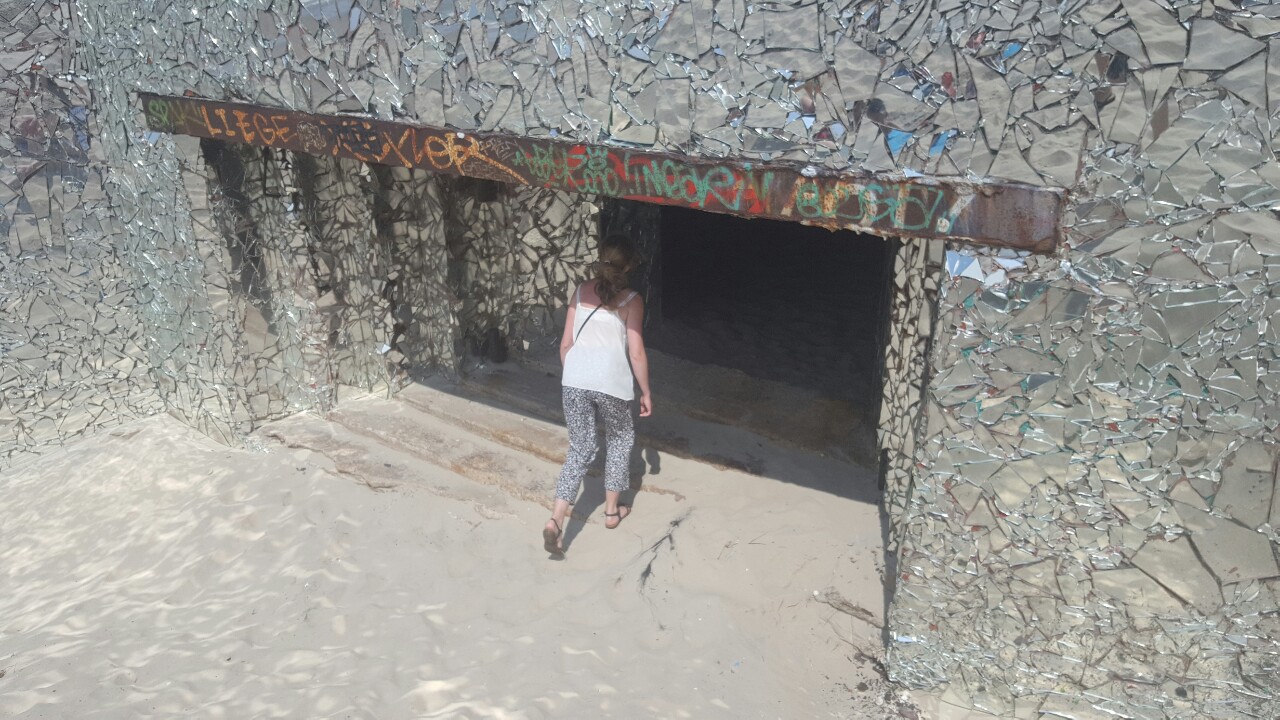 The first bunker we saw was completely covered in fragments of smashed mirror, it looked so surreal.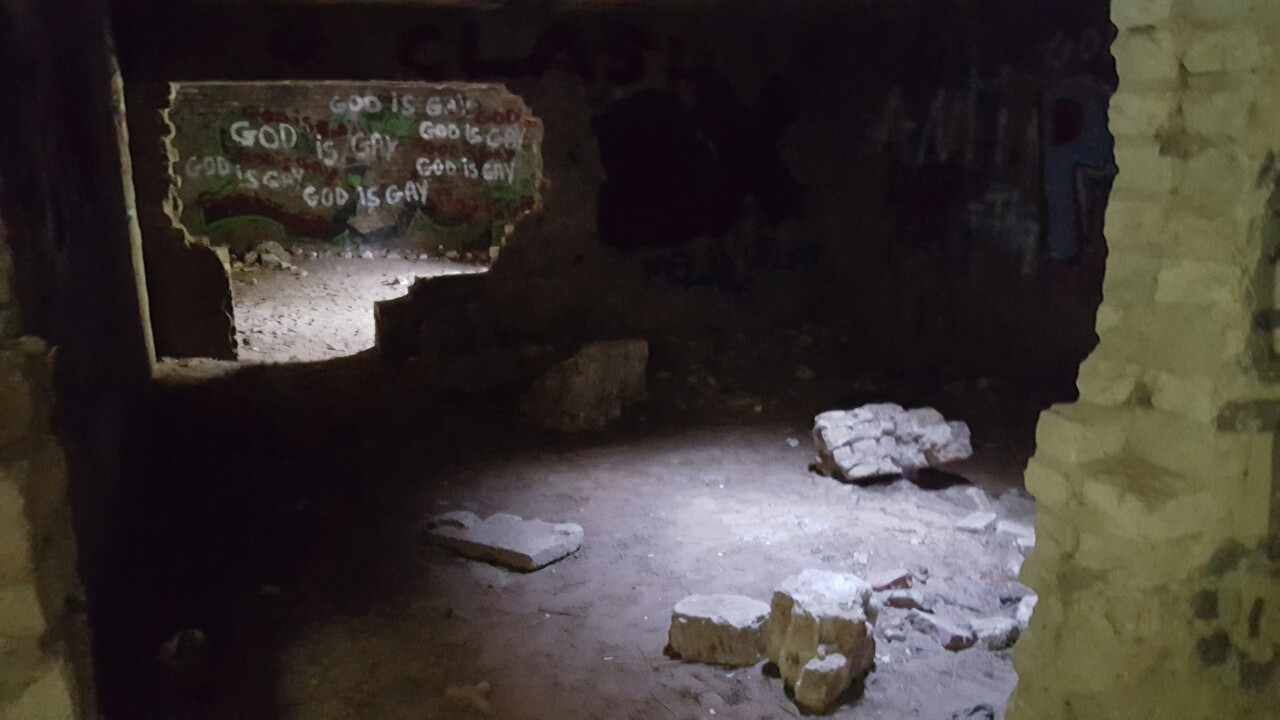 We explored the bunkers and abandoned barracks for a good few hours. It was interesting to see the places that the soldiers where positioned first-hand. Quite a few of the bunkers had metal gates, but most of them you could go inside.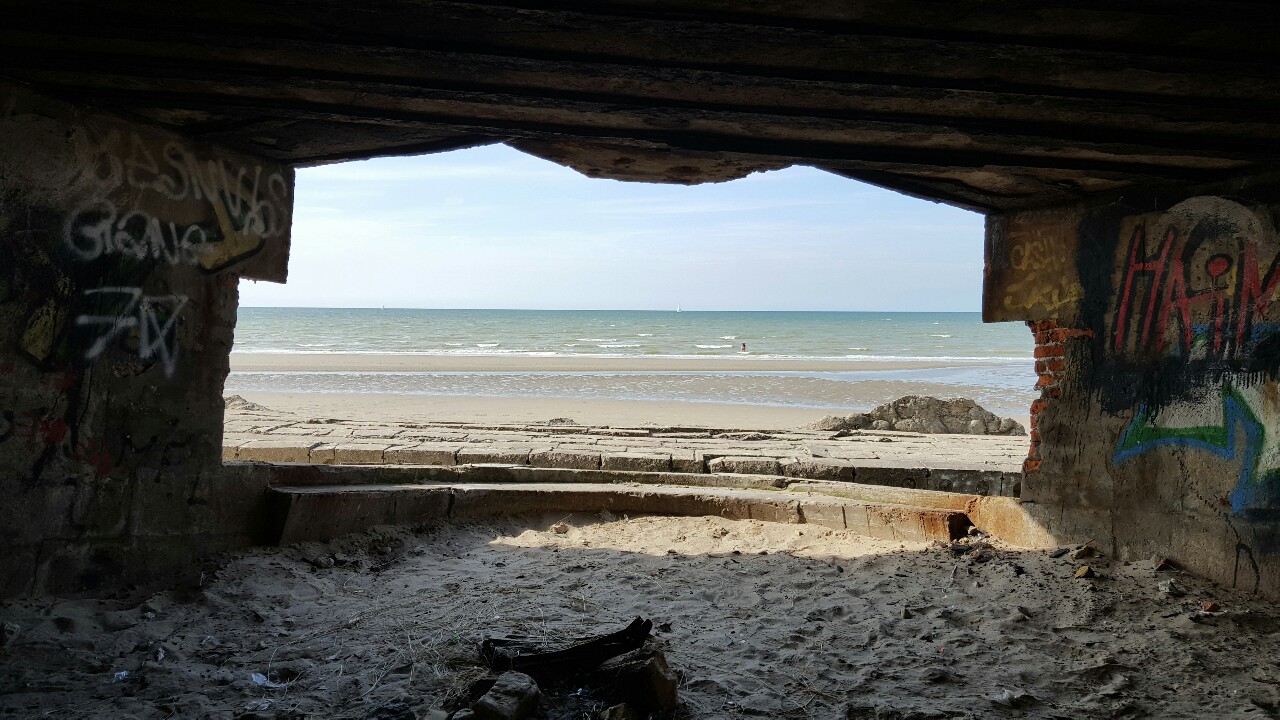 Afterwards we walked back towards the town and went to a reataurant named after the northern french dialect Ch'ti.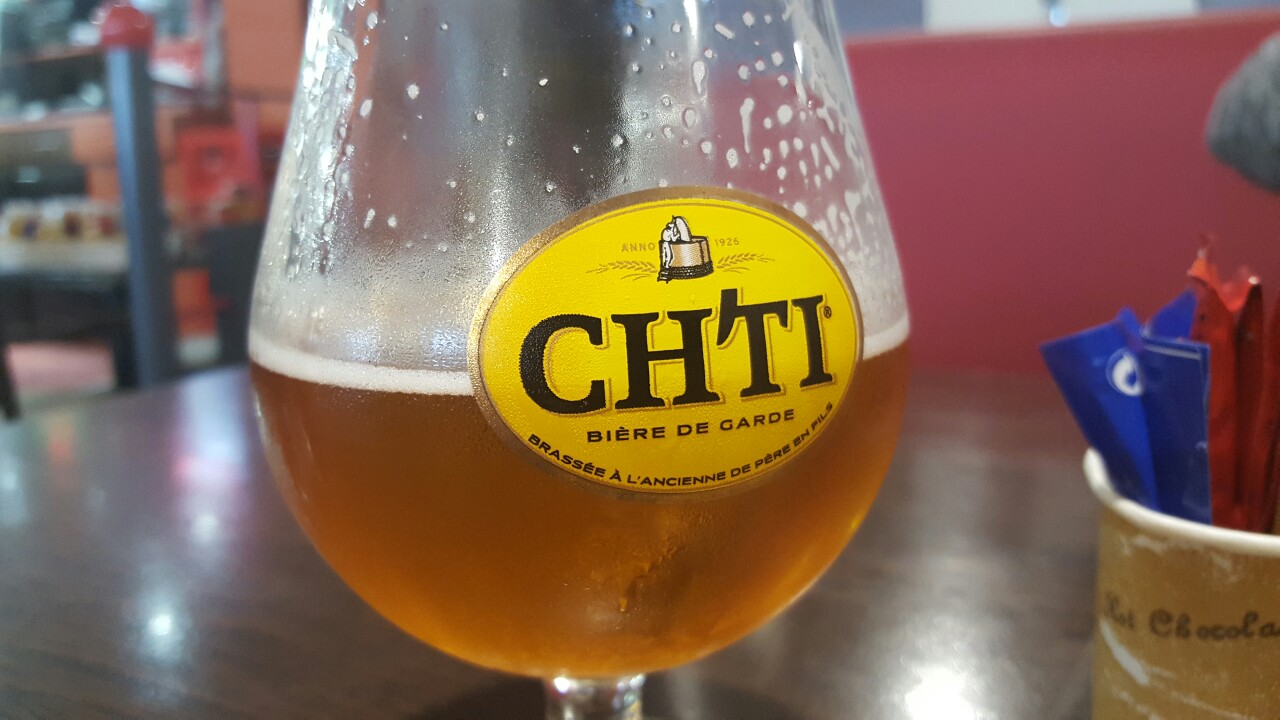 While there, I ordered the locally brewery Ch'ti Blonde beer, it had light and fruity flavour.
34 Fra - Calais
We drove up the coast a little further and arrived in Calais. The weather was still really hot, luckily there was a huge empty beach right behind the campsite.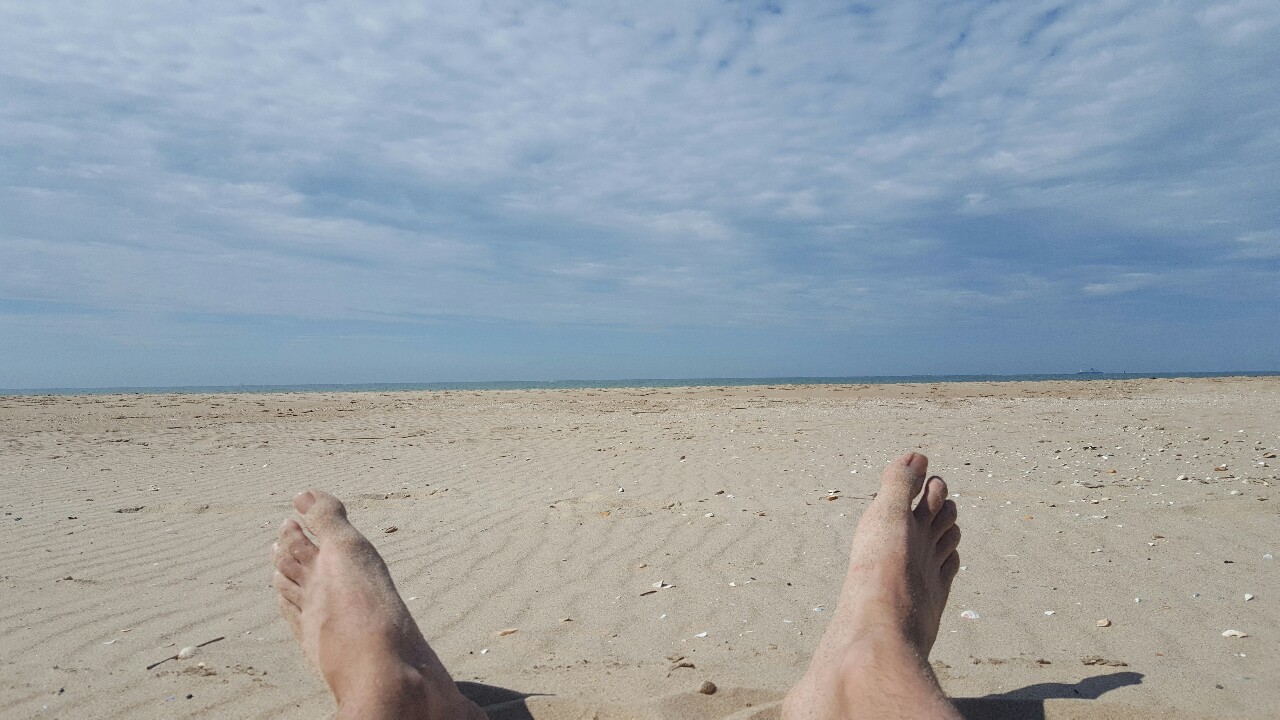 We chilled on the beach for most of the day, then went back again after food.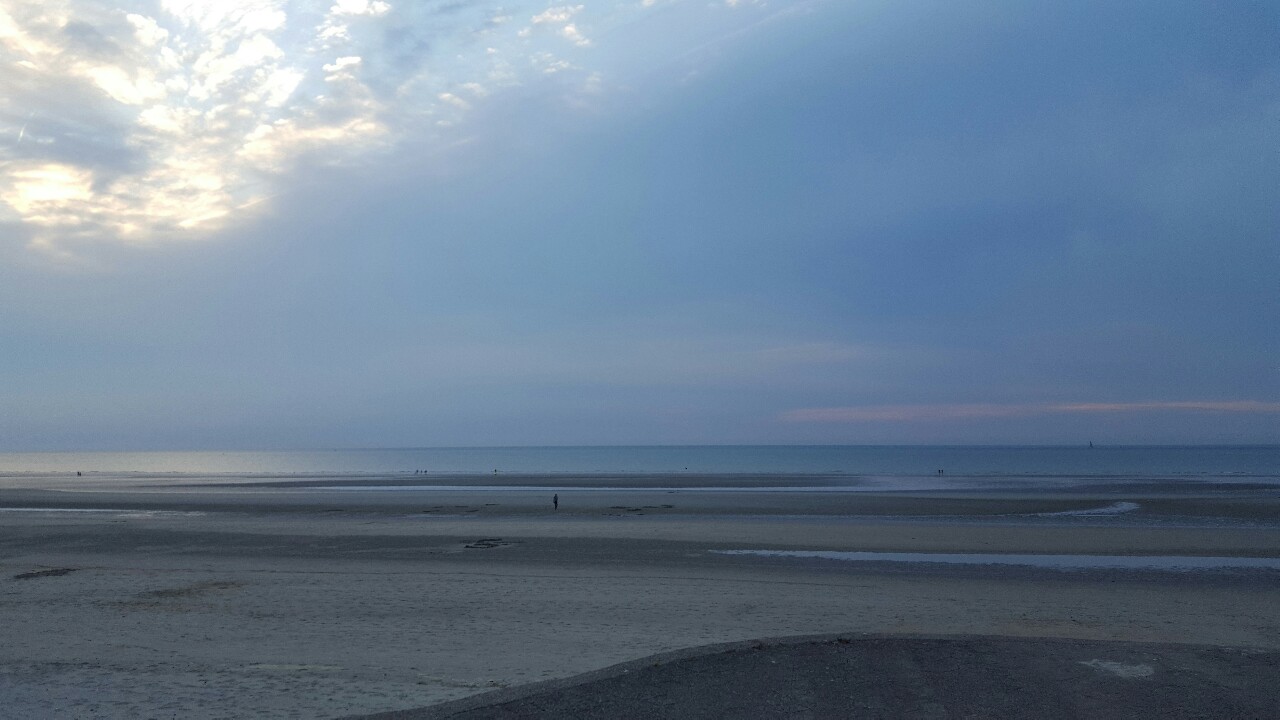 35 Fra / Eng - Calais / Dover / Home
We woke up early in order to get to the tunnel. When we arrived there was some extra space on the train before ours, so we managed to get on that one instead.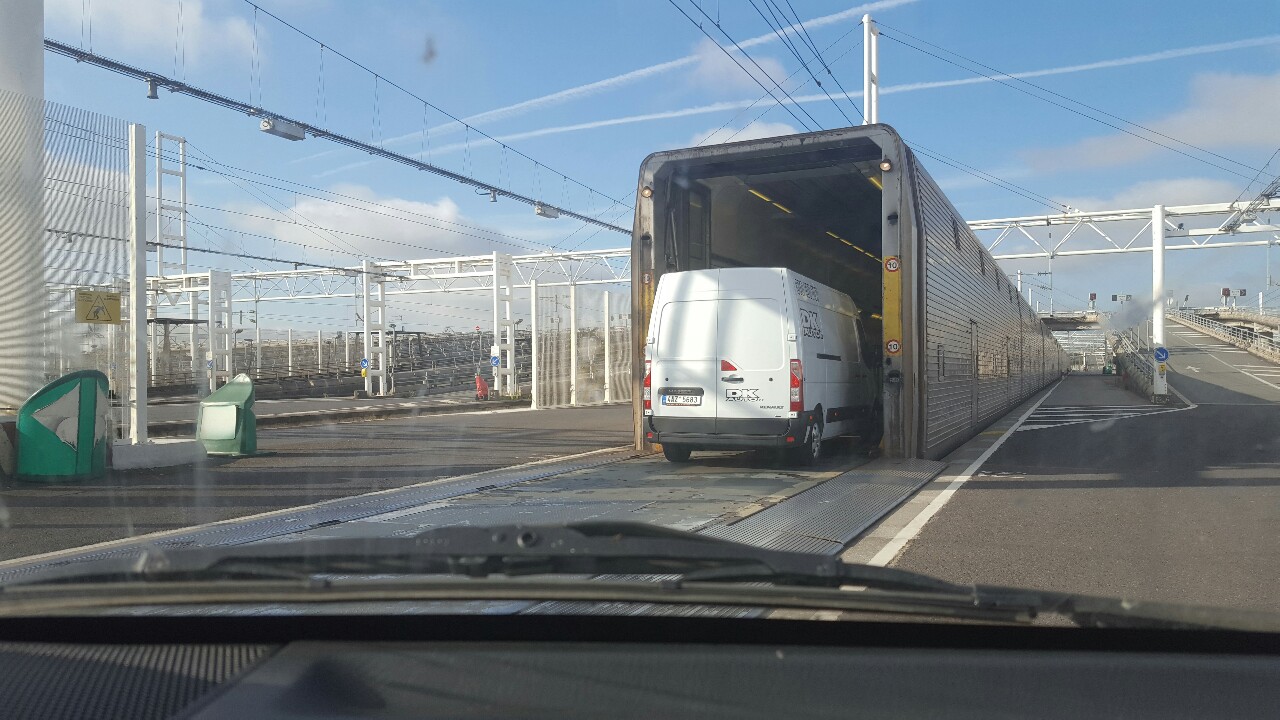 I'd never been on the tunnel before so it was pretty fun.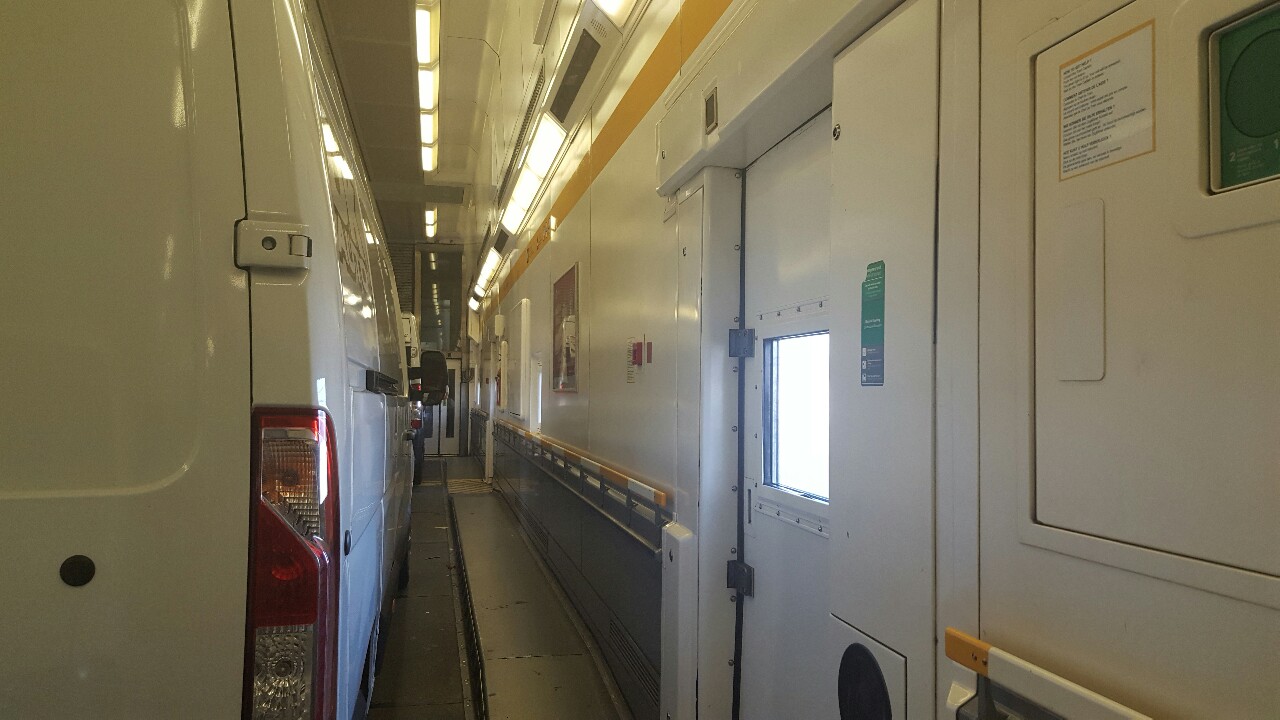 When we arrived back in England, I drove to my uncles in Bedford again to see my gran who was visiting from Ireland. After lunch we drove back home to finish the trip.
On arrival the total trip milage counter was on around 3,330. We ended up seeing a lot more than planned, and even went places we'd never heard of.
Thanks for reading my blog and I hope you enjoyed the photos, we both had a great time and are looking forward to the next adventure!
🇪🇸󠁧󠁢󠁥󠁮󠁧 🇫🇷 🇮🇹 🇦🇹 🇨🇭 🇩🇪 🇳🇱 🇧🇪 🇬🇧