This weekend I travelled down to Bristol with Make Do for WordCamp Bristol, a WordPress conference that took place over the weekend. This was also my first time visiting Bristol - so first impressions, it's chilled, very hilly and there's loads of street art and graffiti everywhere. Overall pretty good vibes! 👌
After getting off the train we looked for somewhere to eat, firstly heading to the nearest Weatherspoon's, but it was crammed so we instead wandered over to a pub called The Barley Mow. It turns out this place had been voted the best pub in Bristol, so I guess we're lucky spoons was full. Our AirBnb was up in Redland, from the outside it looked like a shop, but inside it was actually really cool.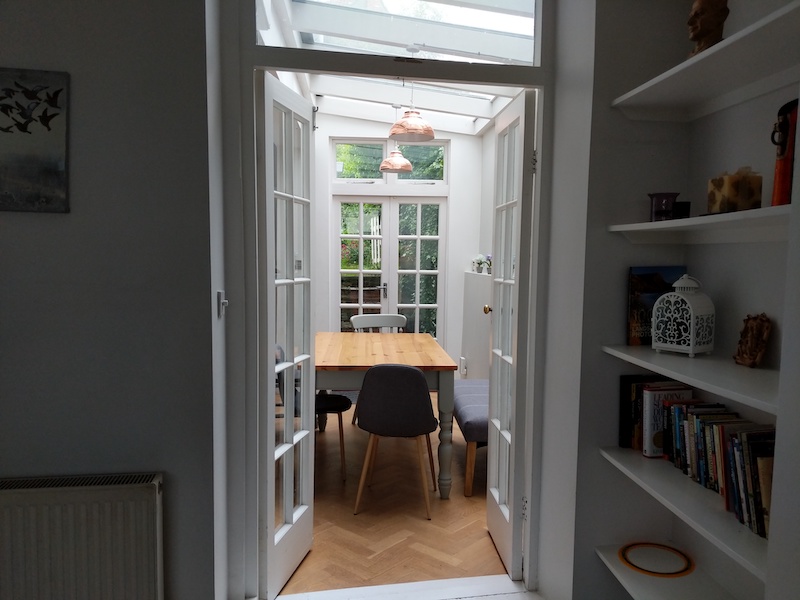 After dropping our bags, we caught a taxi down to the sponsor/speaker social over at The Pavilion, near the waterfront. There we found some familiar faces, but also met some new folks including reps from both DeployHQ and Plesk, and some local Bristolian volunteers too.
Day 1 Talks
We started early on Saturday with a taxi over to the University of Bristol, School of Chemistry. The building was an old fashioned style uni and the two event tracks were held inside traditional looking lecture halls, complete with blackboards.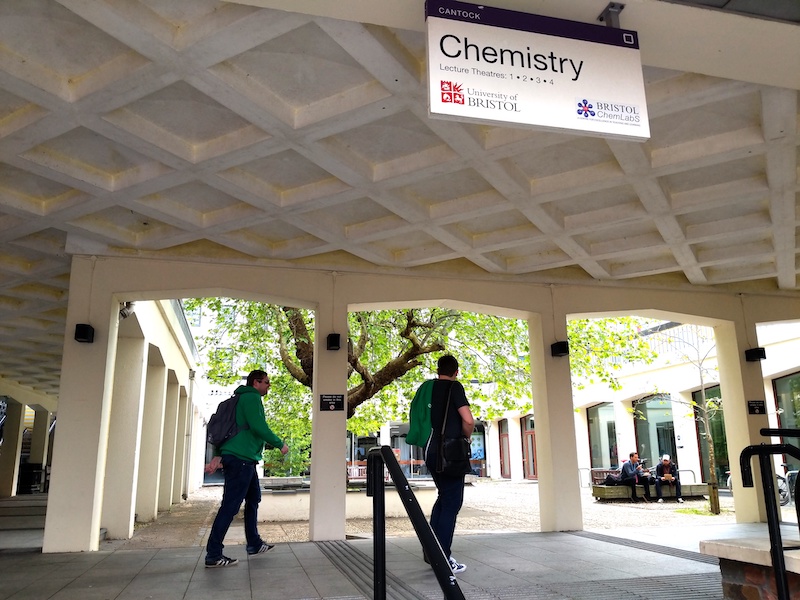 Keith's Terminal Tips
The first talk we saw was by Keith from 34SP. He covered some terminal productivity hacks that he uses to shave seconds off his repeatable tasks. He gave an overview of Brew, Cask and ZSH. I do use Brew and Cask but I've never used ZSH myself, although Keith certainly sold it as something to look into if I do start using terminal more intensively.
I didn't know that shell scripts could also run different languages! I learned shell scripts start with the shebang, which can also specify the language the script can be run in, for example #!/bin/bash or with php for example #!/bin/php.
Lizzie's Legacy Brain System
Next we saw Lizzie Darville from Dyson give an interesting and inspiring talk that revolved around our brains built-in mechanisms to deal with threats and rewards.
She told us about her aviophobia, an irrational fear of flying, and used this as an anecdote to explain coping methods and the reasons why the brain responds the way it does when it perceives a threat.
Lizzie also gave us some simple tips to trigger our reward system while at work, such as taking a walk, having a healthy snack or even just talking through our thoughts with others. Something I'd like to try myself is the tip to practice things you are scared of, which can help you naturally learn your own ways to overcome irrational fears.
Dan's WP&UP Group
Dan Maby told us about his WP&UP charity, that he set up to help improve mental health in the WordPress community.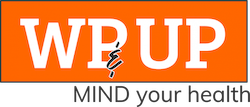 I thought it was reassuring to know that a group like this exists. It was also nice to see how much it's grown since meeting Dan back in 2017 at WordCamp London, where he was telling us about his future plans.
Jonny's Project Process
Jonny gave us a densely packed talk that covered his team's project process from start to finish. I thought it was a really good insight into how another agency does project structure, boiler-plating and automation. Some of the stuff Jonny mentioned we do ourselves, but he also mentioned a few interesting ideas we'd not thought of.
Michelle's Grid Layouts
Michelle's talk covered CSS grid basics, followed by a challenging example she'd faced on a client project. I'd actually seen this same talk over at UpFront in Manchester, but I certainly enjoyed it, and was glad to get a css grid refresher.
Exploring Bristol
I decided to skip the final talk of the day and explore Bristol a little. Originally I set out to look for some Banksy art, with Bristol being his home town. Two Banksy pieces were close to the University, but I wanted to go and see "The girl with pearl Earring" in particular.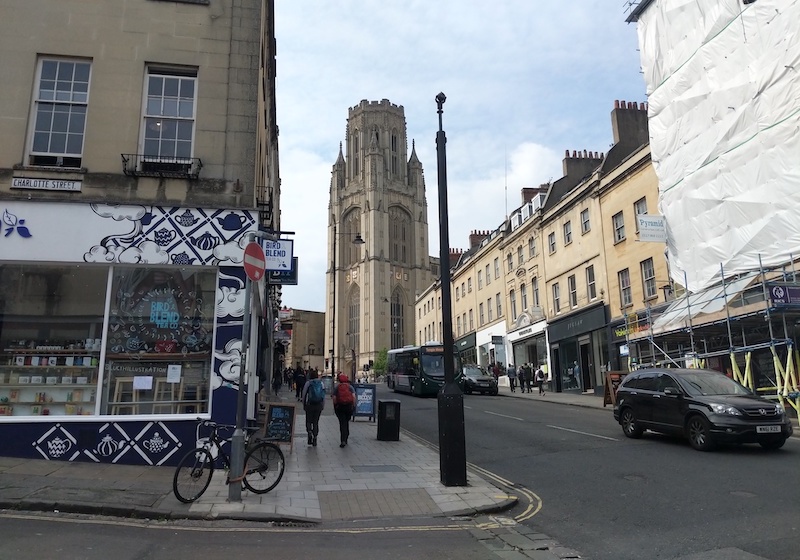 It turns out I needed to go to Spike Island, which was in the middle of the River Avon that runs through Bristol centre. I walked towards the river to cross over somewhere, and was surprised to find a little boat doing trips across the water for only £1, so I hopped on, it was pretty fun!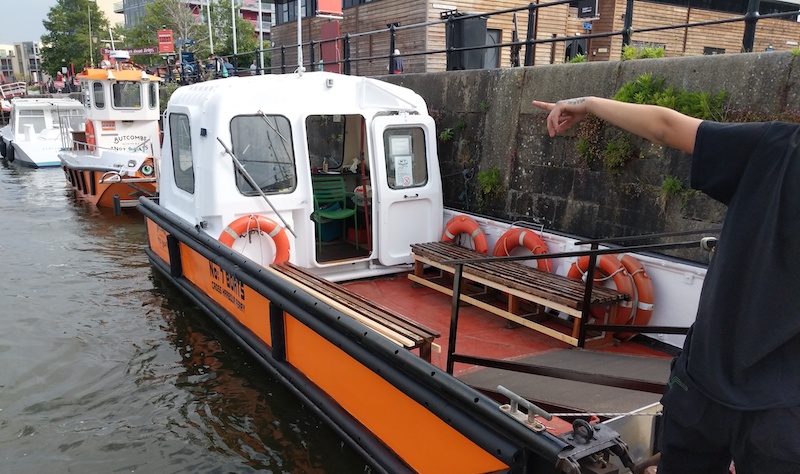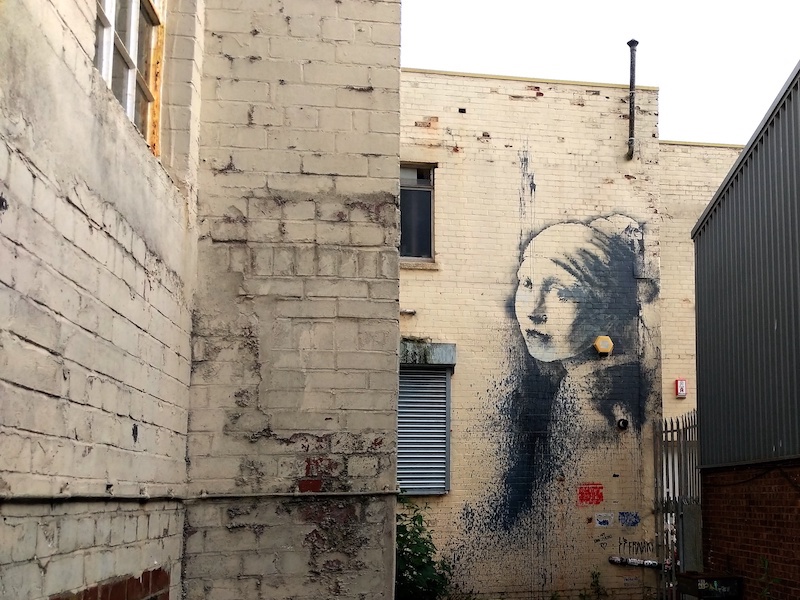 I managed to find the Banksy piece amongst some industrial buildings, then walked through the docks back to a footbridge to cross back into the town, but just as I approached it the bridge closed and turned to allow a boat to pass. While there I saw more impressive street art.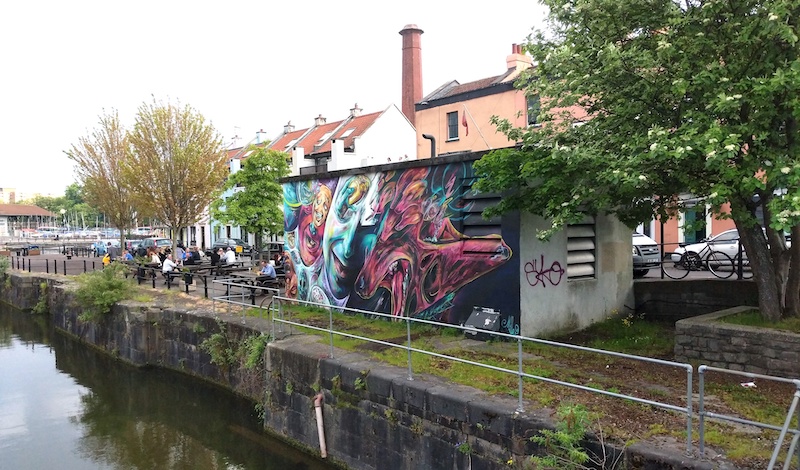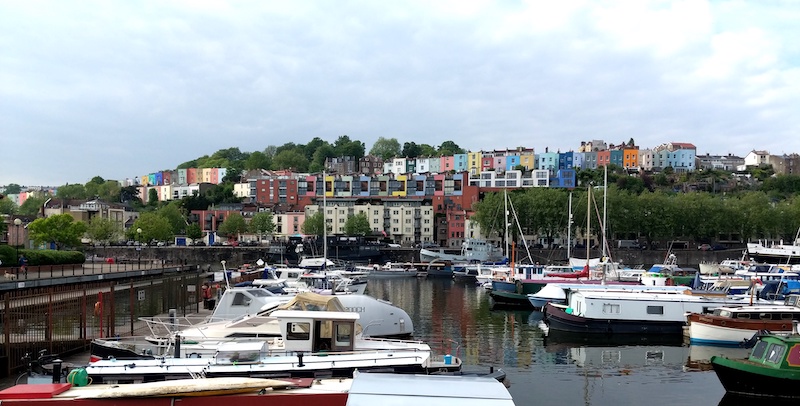 I crossed the footbridge into the centre of town and ended up walking up a steep hill that led into a park. Turns out I was walking up Brandon Hill, and at the top there was a tall tower and a great view looking out over the harbour.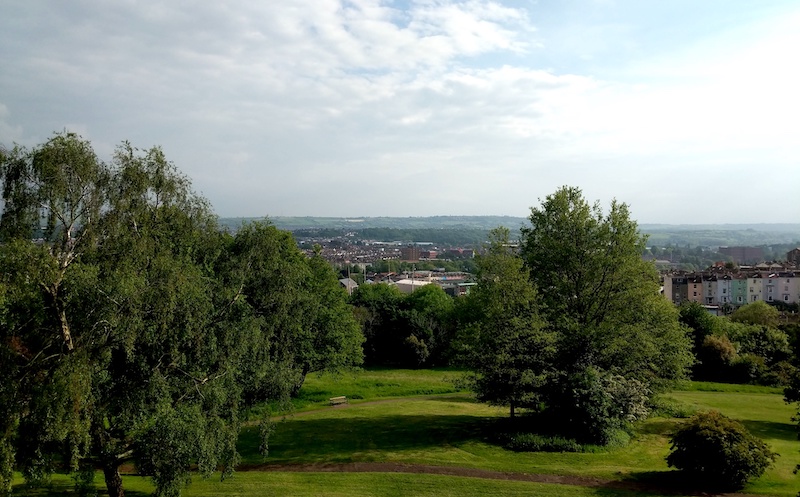 I continued on down through a quiet residential area then the town. On the way back I walked through a place called Stokes Croft where I found a huge crowd of people having a rave in the middle of the street, which was unexpected.
There were people sitting on the roofs of buildings, loud drum and bass playing, with an MC stood in the first floor of a building looking out onto the street. I stayed and watched for a bit, then walked through the crowds back up to our house.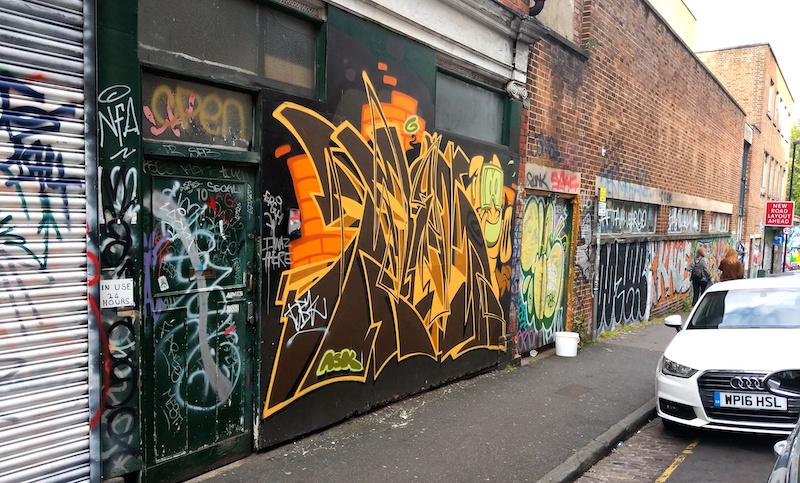 After some good food at the pub across the road, cartoons 'n' chill, we made our way back into Bristol and decided to head back towards the huge street rave, because it felt like it'd definitely be a shame to miss. It turns out it was some yearly festival called Rave on Avon.
We met loads of random people, danced, enjoyed the music and just wandered around the area. There was a mixture of hippies, ravers, tramps and just regular people there. The smell was an intense mix of weed, pee and sweat…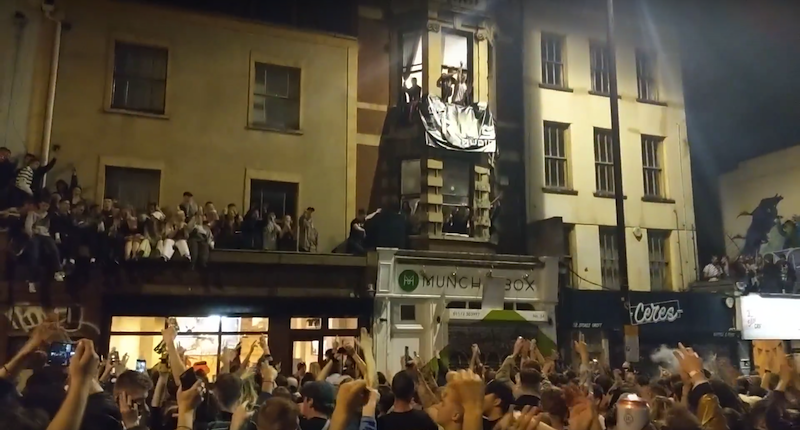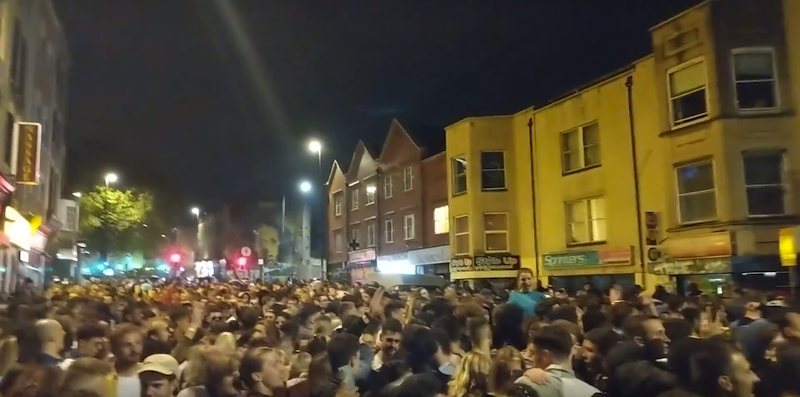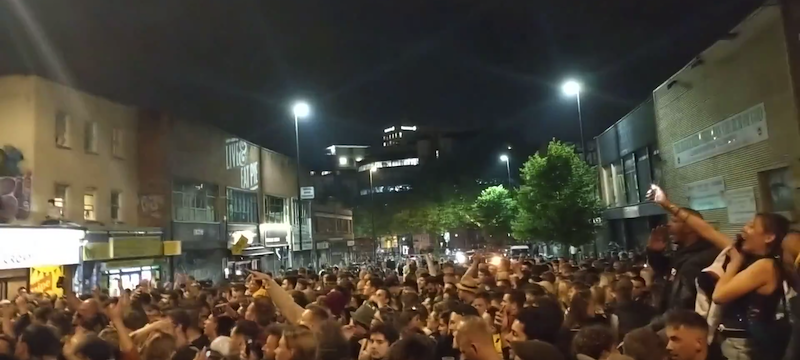 Eventually, when we ran out of the cans we'd brought with us, we found a pub that had a beer garden at the back where we talked with a local couple and another couple from France.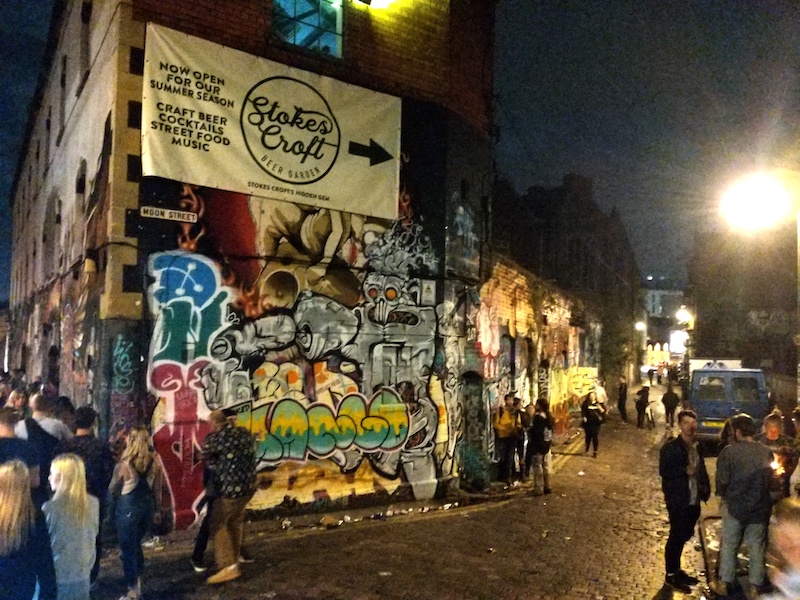 After the pub closed, we walked around outside for a while and met some skaters, I tried doing some tricks but couldn't ride the extremely loose trucks. Probably having a few drinks also had something to do with it… After wandering around a little longer we eventually made our way back home at about 2am.
Day 2 Talks
Unusually, not feeling that hungover, we arrived only a little after the first talk had started. This is the point I think I really appreciated the free conference coffee the most!
Graham's Accessible Markup
Graham talked about the level of support and accessibility for various HTML5 elements, most of which sadly weren't viable for full accessible use. I liked the format of the talk though, and some of the elements i'd never even heard of.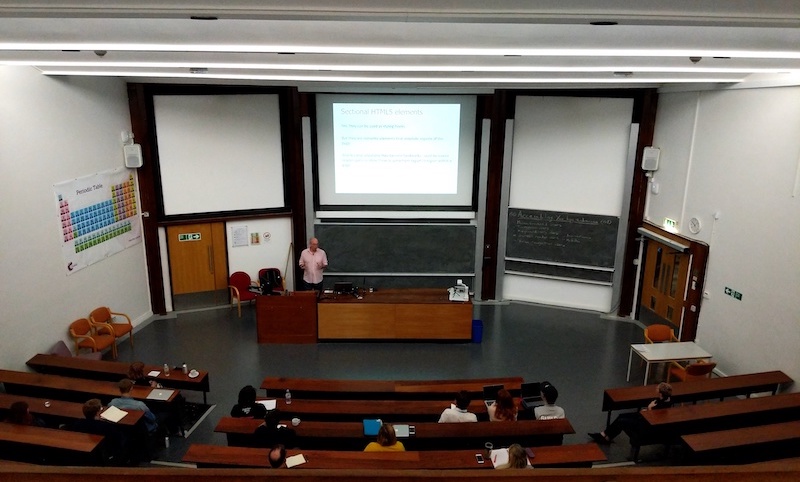 I think my favourites were the <summary> and <details> tags. Together they're like an expandable accordion box, and are widely supported/accessible with the addition of polyfills. Another neat tip I picked up on was to test by using the screen reader built into mac and iPhones.
Mark's Blocks Without JS
In Marks talk it was good to see it's possible for people who aren't fully comfortable with JS to still work with Gutenberg.
I've experienced first hand how intimidating the learning curve of JS is, having only really learned to use it over the last couple of years. I also feel like react may be one step too far away from most peoples comfort zones at this point, so this being possible without diving into that is reassuring too.
Mark told us the release of ACF v5.8 brought the acf_register_block_type function, allowing the ability to register ACF blocks. Mark also demonstrated his own plugin that made use of ACF, containing a suite of Gutenberg blocks for general use on client projects.
Lightning Talks
Tess' do_action
Tess talked about do_action events, where volunteers get together with charities and have a hackathon to make them free websites. They're not that common yet, but apparently the initiative is picking up traction, so we might see one closer to home soon hopefully.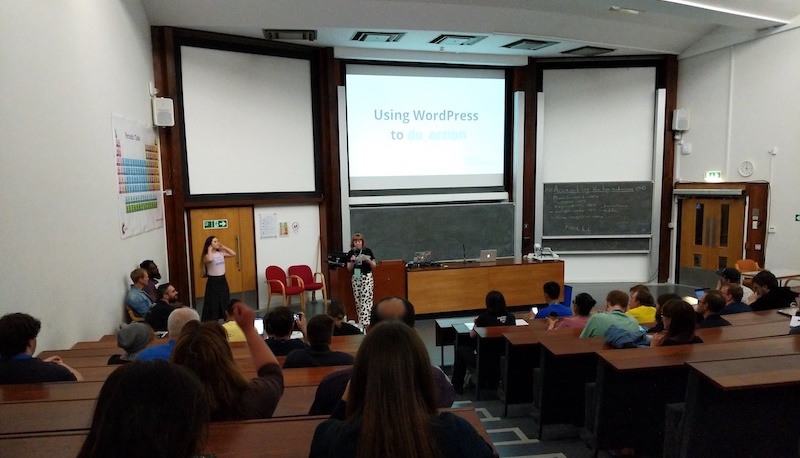 Rich's Creative Tips
Rich, the Creative Director at Pragmatic, touched on a lot of themes in his talk. I think my key takeaways were:
To try to be more conscious of imposter syndrome.
Keep active with personal projects.
Face to face feedback is best.
More practice of mindfulness is never a bad thing.
Luminus' Remote Working
Luminus, a WooCommerce Happiness Engineer at Automattic, talked about his thoughts on the pros and cons of remote working.
With Make Do being a fully remote team, this was actually a nice reminder of the benefits of remote working and I think it has encouraged me to take advantage of them more.
Mitko's React Rest & WP
Mitko gave a short overview of react, followed by a rundown of a project he'd used it in, alongside headless WordPress.
He also noted some performance tips, like reducing classnames in markup, and in the case of an API, reducing the amount of data in the response. In the project, he loaded the raw html first then overwrote it with the js response html, meaning the whole site was still SEO crawl-able, which is something i'd previously heard was a common problem with react based websites.
---
Having a train pre-booked, sadly we had to leave before seeing Scott's last talk, which I think i'll have to look up when the videos are out.
Overall I really enjoyed WordCamp Bristol and the city itself too, it's certainly been a rollercoaster of a weekend! I'm currently writing this up on the looong train ride home, looking forward to some well earned sleep. Hopefully i'll catch you all at another WordCamp or maybe next year in Bristol. Finally, a special thanks to WordCamp Bristol for organising and Make Do for taking us to the conf!
As Rich said to close his talk - Namaste 🙏✌️